Religious Women Push Lawmakers to Investigate Kavanaugh, Suspend Confirmation
By Jack Jenkins
Religion News Service
September 26, 2018

https://religionnews.com/2018/09/26/religious-women-push-lawmakers-to-investigate-kavanaugh-halt-confirmation-allegations-nuns-mormon-danforth/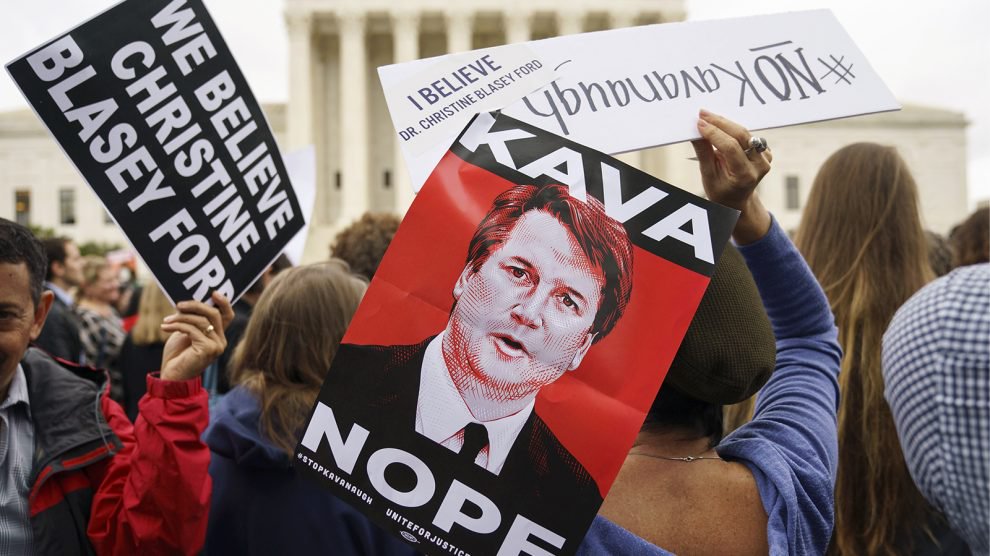 Protesters gather in front of the Supreme Court building holding signs with the image of Judge Brett Kavanaugh that read "Kava Nope" and "We Believe Christine Blasey Ford" on Capitol Hill in Washington, on Sept. 24, 2018. Additional allegations of sexual misconduct have emerged against Kavanaugh, a development that has further imperiled his nomination to the Supreme Court, forced the White House and Senate Republicans onto the defensive and fueled calls from Democrats to postpone further action on his confirmation. President Trump is standing by his nominee. (AP Photo/Carolyn Kaster)



Groups of religious women are speaking out about the nomination of Brett Kavanaugh to the U.S. Supreme Court, citing their faith as they call on lawmakers to investigate allegations of sexual assault raised by Christine Blasey Ford and others.

"I understand that when he testifies, Judge Kavanaugh is going to cite his Catholic faith as a shield to claim these attacks never happened. Being a Catholic does not change the accounts provided by Christine Blasey Ford, Deborah Ramirez, and Julie Swetnick," Sister Simone Campbell, head of the Catholic social justice lobby group Network, said in a statement referencing Kavanaugh's accusers. "I know all too painfully that being a person of faith does not stop men from being sexual predators."

Network has been critical of Kavanaugh's nomination for weeks, and the group's latest statement calls on senators to launch a full investigation into the allegations against him. Network representatives are also slated to speak at a protest tentatively scheduled for Friday, the day the Senate Judiciary Committee is scheduled to vote on the nomination. The protest is organized in part by the National Council of Jewish Women.

The Catholic school-educated U.S. Circuit judge is expected to deny the allegations and highlight his Catholic background during his testimony before the committee on Thursday (Sept. 27).

"I am here this morning to answer these allegations and to tell the truth. And the truth is that I have never sexually assaulted anyone — not in high school, not in college, not ever," Kavanaugh wrote in his prepared remarks. "Sexual assault is horrific. It is morally wrong. It is illegal. It is contrary to my religious faith."

Other faith groups have chided lawmakers who have voiced support of Kavanaugh. On Monday, the advocacy group Mormon Women for Ethical Government called on lawmakers to suspend confirmation proceedings until an independent investigation of the allegations against Kavanaugh can be completed. They directed their statement to four Republicans who share their faith and sit on the Senate Judiciary Committee: Orrin Hatch and Mike Lee of Utah, Mike Crapo of Idaho and Jeff Flake of Arizona.

"Our mutual faith teaches that any sexual abuse or assault in any context is contemptible and worthy of the most severe condemnation," the statement reads, referring to their shared membership in the Church of Jesus Christ of Latter-day Saints. "If these accusations are proved false, an investigation will prevent harm to the court's legitimacy. If they are true, then Judge Kavanaugh must not be confirmed."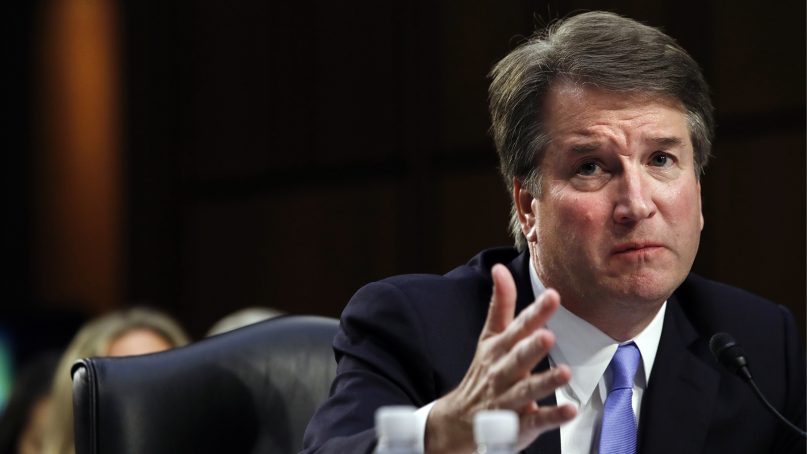 Supreme Court nominee Brett Kavanaugh answers questions on the third day of his Senate Judiciary Committee confirmation hearing, on Sept. 6, 2018, on Capitol Hill in Washington. (AP Photo/Jacquelyn Martin)



Meanwhile, more than 320 Episcopal clergywomen signed a letter this week condemning remarks made by former U.S. Sen. John C. Danforth, who is also an Episcopal priest. The Missouri Republican told The New York Times last week that he felt "so terribly sorry for Kavanaugh" and that he felt similarly when Clarence Thomas faced allegations by Anita Hill of sexual misconduct during his Supreme Court nomination hearing.

"No one, not least a priest of the church, should publicly shame, blame or question the motives of women who step forward to report instances of sexual abuse; Mr. Danforth should instead be calling for an in-depth examination of Dr. Blasey's allegations," the letter reads.

The Rev. Susan Frederick-Gray, president of the Unitarian Universalist Association, is also participating in "Cancel Kavanaugh" demonstrations on Thursday near the U.S. Capitol.

By contrast, some conservative faith leaders have continued to back Kavanaugh. Christian talk radio show host Sandy Rios said Ford's allegation undermined "real" abuse survivors, Texas pastor and faith adviser to President Trump Robert Jeffress has called on the FBI to investigate "collusion" between Democrats and Ford to "derail a Supreme Court nomination," and Liberty University — an evangelical Christian school — is reportedly sending 300 students to demonstrate this week in Washington to show support for Kavanaugh's nomination.