Survivor Group Asks for Deeper Investigation of Priests
By Joe Gamm
News Tribune
September 27, 2018

http://www.newstribune.com/news/local/story/2018/sep/27/survivor-group-asks-deeper-investigation-priests/745284/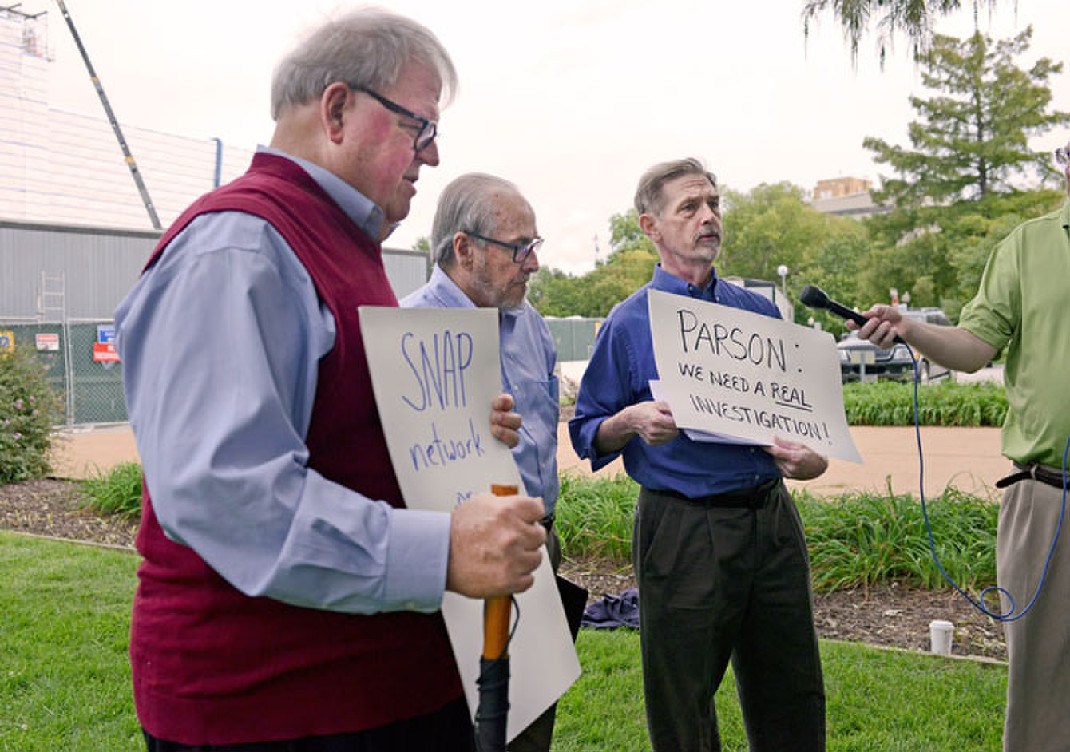 From left, Tom White, Jim McConnell and David Clohessy speak to the media Wednesday outside the Capitol. Clohessy and members of SNAP presented a letter to Gov. Mike Parson asking him to use subpoena power and command a criminal investigation in alleged sexual abuse by Catholic Church officials.



Survivors of sexual abuse by priests and their supporters delivered a letter to Gov. Mike Parson on Wednesday, asking him to command Attorney General Josh Hawley to conduct a criminal investigation — and authorize him to use subpoena power in investigations — of alleged sexual abuse by Catholic Church officials in Missouri.

Members of the Survivors Network of those Abused by Priests (SNAP) said they wanted the governor to add teeth to an investigation Hawley began late last month.

Hawley announced Aug. 23 he was starting an independent investigation into allegations of sexual abuse by members of the clergy in the Catholic Archdiocese of St. Louis. He asked that other dioceses in the state voluntarily allow his office to examine them. Hours later, Bishop W. Shawn McKnight of the Jefferson City Diocese invited the AG's office to review the local diocese.

The late August activities followed a Pennsylvania grand jury release of a report on clergy abuse there.

David Clohessy, former director of SNAP, which was established to support survivors of clergy sexual abuse, said as a former law enforcement official, Parson should understand the difference between a "real investigation and an inadequate investigation."

"We're asking him to essentially order the attorney general to do this probe of Catholic dioceses in Missouri," Clohessy said, "and to do it right."

Hawley has said he doesn't have the power to compel sworn testimony — to subpoena witnesses — and that he can use subpoena power if he is ordered to by the governor or if he works with a local prosecutor.

Hawley spokeswoman Mary Compton told the Associated Press local prosecutors have not asked for help investigating potential abuse. Parson's spokeswoman Kelli Jones told the AP that, until that happens, the governor doesn't have the authority to force further action.

"To those of us in SNAP, it doesn't matter who Hawley teams with. What matters is that this investigation be a real investigation and a thorough investigation," Clohessy said.

SNAP members are troubled, he said, because Hawley is relying almost exclusively on the voluntary production of church records.

Without subpoenas, Hawley has no way of knowing if he has 9 percent or 90 percent of actual records concerning abusive priests, Clohessy said, adding historically, bishops have worked to keep church documents.

"It boggles the mind to think that suddenly, voluntarily, they would do a complete 180-degree turnaround and provide to Hawley every single piece of paper they have about every single predator priest," Clohessy said.

Another reason the voluntary approach troubles SNAP, he said, is allegations receiving national attention have been surfacing since about 2002, and it's likely there have been fewer files kept in that time.

A complete investigation must rely on sworn testimony, church officials' testimony under oath and the subpoena power to retrieve all the church records, he said.

The letter to Parson claims hundreds of predator priests from across the United States have, over decades, been sent to church-run facilities in Missouri to be "treated." It states SNAP supporters believe the number of predator priests in Missouri is dramatically higher than has been suggested previously.

The letter points out the case of former Jefferson City priest Hugh Behan, the former editor of the Catholic Missourian newspaper and former chaplain to the Missouri House of Representatives and death-row inmates at the state penitentiary, who, after being dismissed from the ministry following a 1999 sexual misconduct case, went to work at Disney World in Florida.

"For far too long, secular authorities in Missouri and elsewhere have played a 'hands off' role in clergy sex crimes and cover-ups, enabling church officials to continue quietly moving predators, paying off victims and maintaining dangerous secrecy," the letter states.

The letter notes a concern is the investigation could be half-hearted and rushed to be used for political gain.

Another concern for SNAP members is the short statute of limitations for allegations concerning sexual abuse, Clohessy said.

Criminal cases involving sexual abuse of a minor have no statute of limitations in Missouri. However, other offenses involving minors are limited to 30 years from the victim's 18th birthday. Sexual offenses involving adults have a two-year statute of limitations.

In civil cases, the statute of limitations for filing a sexual abuse case is 10 years from the child's 18th birthday and three years from the discovery of physical or psychological injuries caused by abuse.

The crisis has surfaced in states where legislators have "opened the courthouse doors" and allowed people to come forward in court to make allegations, Clohessy said. Sexual assault victims, he said, are naturally suspicious and might take years and years to come forward.

"The sad, simple reality is you don't hear about 8-year-old girls coming out of school and getting on a city bus to ride down to the prosecutor's office and saying, 'My teacher touched me this afternoon,'" Clohessy said.

Fifteen-year-old boys don't ask their mothers to take them to the police station to report their coach's sexual abuse, he continued.

"It inevitably takes years — if not decades — for victims to understand that they've been hurt," he said. "To understand that it's severe. The pain is ongoing and it's criminal, and the guy is probably doing it to other people."

Tom White was once a Catholic priest and is now a father and grandfather. He said that at the time he went through seminary and when he was a priest, he was unaware of any priests who were sexual predators.

But he later found three men he went through seminary with later were accused of abuse. Two are now in prison in Illinois, he said. The third, who was defrocked earlier this year, continues to practice medicine in Kansas City, White said.

The stories will "scare you to death," he said.

"The accounts of suffering and pain and the reluctance to speak, and all the collateral damage that occurs will be good cause for Mr. Hawley to do the detailed investigation that should be done," White said, "rather than just accepting the files of the dioceses."