Local abuse advocates call for investigation into Catholic clergy sex crimes
NBC 24
October 08, 2018

https://nbc24.com/news/local/local-abuse-advocates-call-for-investigation-into-catholic-clergy-sex-crimes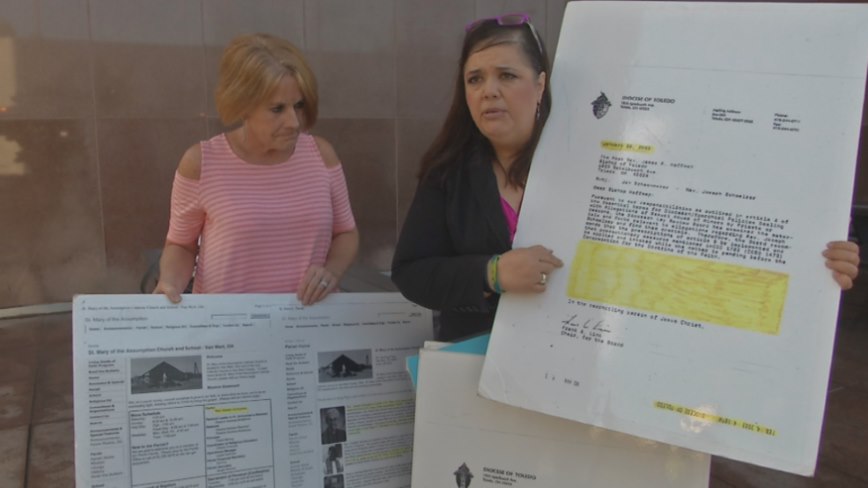 Survivors Network of those Abused by Priests (SNAP) advocates gather outside One Government Center (WNWO).
A local chapter of an abuse advocate group is calling for an investigation into sexual misconduct allegations in the Catholic church.
The Survivors Network of those Abused by Priests, otherwise known as SNAP, is sending letters of demand to Ohio Attorney General Mike DeWine and Lucas County Prosecutor Julia Bates.
The group is asking for a grand jury and panel like the recent actions that were taken in Pennsylvania, where a report alleged more than 1,000 children were molested by over 300 members of the church.
Claudia Vercellotti is the longtime director for SNAP in Toledo and made the announcement at a press conference Monday afternoon.
"It takes a second to abuse a child and a lifetime to overcome it," said Vercellotti. "We are here to call upon the Ohio Attorney General Mike DeWine to fall in line with the other 13 attorney generals around the country who are aggressively going after the abuse and cover up that continues."
The group wants an aggressive investigation into sexual abuse crimes that they say have been covered up by the Diocese of Toledo.
"They're not on the sexual predators (list), there is no documentation to show that these monsters are child molesters," said Joanne Ward a SNAP advocate.
With large reports of the alleged sexual abuse or misconduct and pictures of the alleged victims on poster boards, Vercellotti said she has been fighting for this issue for years.
An issue that she said is personal for her.
"I came forward again after discovering that church leader that had abused me all those years was still taking little girls on overnight retreats to places where I had been abused,
NBC 24 reached out to the Diocese of Toledo and received the following statement:
"In response to questions as to whether the Diocese of Toledo would cooperate with a statewide investigation, Bishop Thomas has gone on record saying, "The Diocese would be immediately open to make every effort to do whatever prosecution or law enforcement requires. We would cooperate fully in a transparent and open fashion."
In 2002, the Diocese of Toledo allowed Lucas County Prosecutors to examine our personnel files of clergy accused of sexual abuse of minors. In 2004 and 2005 the Diocese again opened the files at the request of Lucas County Prosecutors.
On our diocesan website we currently list the names of accused clerics with a substantiated allegation, as we have since 2003. We are presently updating the format of the website to be even more transparent and accessible to the public."
The list of accused clerics with substantial allegations can be found here: https://toledodiocese.org/page/protecting-youth-victim-assistance#_clergy_accused_of_abuse.
We tried contacting the Lucas County Prosecutor's Office but did not receive a response due to the Columbus Day holiday.
A message was left with Attorney General Mike DeWine's Office.