Former Priest Is Found Guilty of Sexually Abusing Boy in Maine
By Megan Gray
Portland Press Herald
November 29, 2018

https://www.journaltribune.com/articles/stateregional/former-priest-is-found-guilty-of-sexually-abusing-boy-in-maine-2/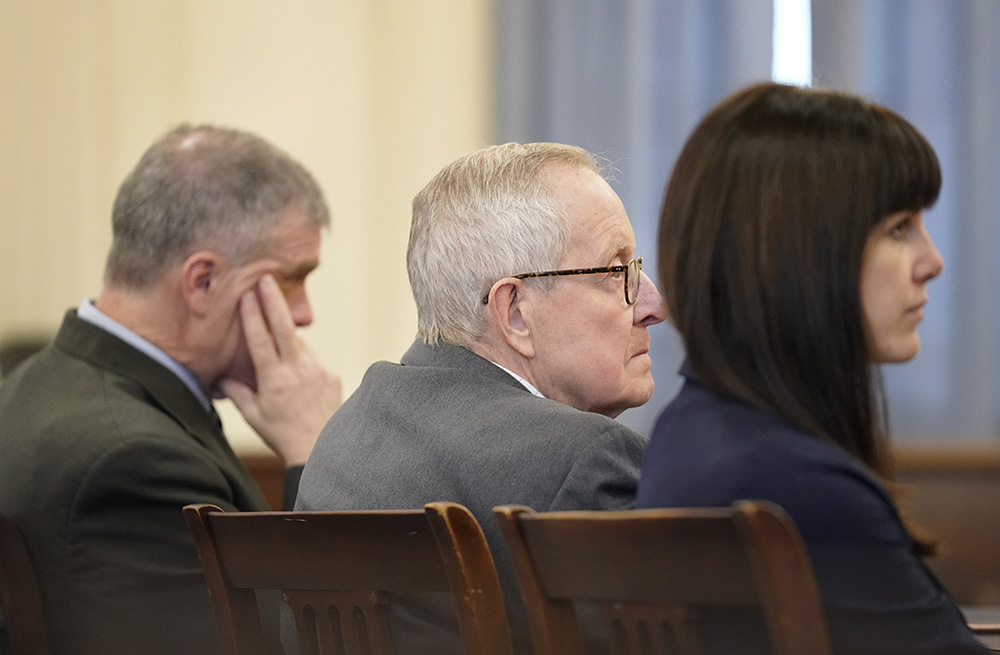 Ronald Paquin, 76, listens as the jury forewoman states the jury's guilty verdict in York County Superior Court in Alfred on Thursday. Staff photo by Gregory Rec



A former Boston priest was found guilty Thursday of sexually abusing a boy during trips to Maine in the 1980s.

Ronald Paquin, 76, was found guilty on 11 of 24 counts of sexual misconduct.

The counts that led to the guilty verdict were based on the testimony of one of two men who accused Paquin in sometimes graphic detail during the three-day trial. He was not found guilty of abusing the other man.

The York County jury deliberated for nearly five fours Wednesday afternoon and Thursday morning. The former clergyman did not react as the forewoman announced the split verdict in a quiet but firm voice.

Paquin was one of the priests exposed in the early 2000s by a sweeping Boston Globe investigation into clergy sex abuse. He served more than a decade in prison in Massachusetts for repeatedly raping an altar boy between 1989 and 1992, beginning when the victim was 12.

His trial is believed to be the first in Maine for a priest embroiled in the Catholic Church's sexual abuse scandal, and he now faces prison time again as an elderly man for his conviction.

Roger Champagne, one of Paquin's two attorneys, said he wants the former priest to undergo a medical evaluation before sentencing. Court documents have suggested Paquin is in poor health. The judge did not set a date for the next hearing.

The jury of five women and seven men had listened to the pained testimony of the two accusers on Monday and Tuesday.

Both men said Paquin befriended them when they were young altar boys in their Haverhill, Mass., parish. They said he took them out for meals and on trips, including to a motel and campground in Kennebunkport where Paquin had a trailer. Paquin gave them alcohol like beer and wine coolers, and he let them drive his car without a license.

The jury found Paquin guilty of all the charges related to Keith Townsend.

Townsend, now 44, has publicly identified himself in the Boston Globe and other media outlets as the person who first reported Paquin to Maine authorities. He told the jury this week that the abuse began when he was 8 or 9 years old, when he recalls sitting on Paquin's lap and learning to drive his car through Massachusetts cemeteries.

On the witness stand, Townsend described his memory of one night in particular when Paquin gave him a drink made with Tanqueray gin and, he believes, prescription drugs. He told the jury about the way Paquin touched him that night and the pain in his rectum the next morning that later led him to believe he had been sexually assaulted.

"I can still taste that drink today," Townsend said.

Paquin was found not guilty of 13 counts related to a second man.

He has not been publicly identified, and the Portland Press Herald does not name alleged victims of sex crimes without their consent.

On the witness stand, that man had described a similar relationship with Paquin. He said the former priest told him dirty jokes that progressed to physical contact when he was as young as 12 or 13 years old. On those visits to Maine, Paquin would urge the boy to perform oral sex and other sex acts on him, and then Paquin would perform those acts on the boy.

Paquin used his parents' divorce to manipulate him, the man told the jury. His hands shook as he sat on the witness stand.

"He told me no one would care for me as he does," the man told the jury.

But those charges specifically stated that the former priest used alcohol to impair the alleged victim. On Thursday morning, the jury asked the court reporter to read back all of that man's testimony related to alcohol. He had described the way Paquin would make beer and wine coolers available to him whenever he wanted. But he had some difficulty articulating how those drinks made him feel, saying it was "different than your everyday experience" and made him "more relaxed."

In closing statements, the defense team told the jury the evidence was too vague to warrant a conviction, especially on those counts. They had tried unsuccessfully to dismiss those charges earlier in the trial.

"There was no testimony suggesting Mr. Paquin was forcing alcohol upon him," defense attorney Valerie Randall said during those arguments.

The jurors also listened to witnesses who were worked at or visited the Kennebunkport campground. They recalled seeing young boys there with Paquin, although none of them said they had seen anything inappropriate. One woman said she once wondered aloud to another couple in the campground why the boys stayed in the trailer on a hot summer day instead of going to the nearby beach or pool. They told her the boys liked to stay inside and play Monopoly.

"They said Father Ron just likes to take these boys out of the inner city and give them a vacation," said Sheila Renda, of Framingham, Mass.

They also heard from an expert witness who testified about delayed disclosure. Kathy Harvey Brown, a clinical social worker who is the coordinator of the Cumberland County Child Advocacy Center, said research shows men usually wait years to report sex abuse from their childhoods.

During closing arguments, one of Paquin's two lawyers told the jury that most of the testimony was "fluff" to distract from the general lack of physical evidence and eyewitness testimony that places these specific boys in Maine in the 1980s.

"The testimony from these two accusers can be compelling, but I don't know how persuasive it is without something else," defense attorney Roger Champagne, said. "Does it rise to proof beyond a reasonable doubt. I submit to you that it does not."

Assistant District Attorney Nicholas Heimbach addressed that question in his rebuttal.

"The state submits to you, the answer is yes, it can," he said. "As I said to you before, the testimony of a victim of gross sexual misconduct alone – that one victim – if it is not so contradictory, unreasonable, incredible or so lacking in common sense, can serve to establish every element of the offense regarding that victim beyond a reasonable doubt."

The jury never heard the former priest speak. He decided not to testify in his own defense, so they also never learned about his prior conviction.

Paquin pleaded guilty in 2002 in Massachusetts to raping an altar boy between 1989 and 1992, beginning when the victim was 12. He was defrocked in 2004 and imprisoned until 2015, when specialists said he no longer met the criteria to be considered sexually dangerous.

Less than two years later, he was arrested again in Boston. He had been indicted in 2017 on 31 counts of gross sexual misconduct, although seven of those charges were dismissed earlier this week.