The Year in Keeping the Faith

By Gustavo Arellano
OC Weekly
December 30, 2004

[See also other articles by Gustavo Arellano.]

I don't know if you've noticed, but I've written a few stories about the Diocese of Orange sex-abuse scandal this year—31, actually. Most of them were well-researched, hard-hitting exposes critical of a church leadership that for decades refused to acknowledge the priestly pedophilia problem in Catholic Orange County. Some stories drew national attention, such as my piece about Orange Bishop Tod D. Brown's purchase of a $1.1 million manse for himself near South Coast Plaza. Others ran under the headlines "All Aboard the Pedo-Train!" and "Hide the Buggering Priests!" or examined a mural at St. Joseph's in Santa Ana I lovingly refer to as "Boner Jesus."

It's a living.

Anyways, it's been tough covering an imploding Church, and not just because of the barrage of angry Catholic e-mails and phone messages. Shortly after I began the series, my parents took me aside. They're barely English-literate, but someone had apparently translated my "King of County Pedophiles" story for them, the article in which I excerpted a police report detailing how Father Eleuterio Ramos allowed three strangers in a San Diego motel room to blindfold a 14-year-old boy, then watched as they savagely gang-raped the teenager.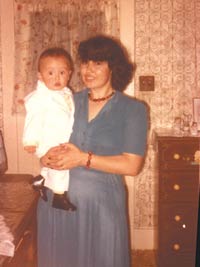 Baptism Photo courtesy Gustavo Arellano


My parents have never been the most devout of Catholics—papi rarely attends Mass, and I can't remember the last time mami took the Eucharist. Nevertheless, they ordered me to sit one night and yelled at me for a good hour. Orthodox or not, they're Mexican Catholics, and insulting the Church in our culture is as serious a sin as saluting the American flag. Why write badly about the Church? they demanded. Why bash God?

At least my parents didn't shun me. Around summer, I started courting a woman whom I'd known for years. I was still raw from yet another heartbreak and figured the bona fide Sunday-school teacher would treat me with Christian love. Everything went dandy—chaste, unfortunately, but dandy—until I excitedly called her one night. I had just received accolades from friends for my "Lifestyles of the Rich and Pious" cover story. That would've been the article in which I described the Orange diocese's 10 most-expensive homes in luxuriant, numbers-crunching detail.

She hadn't read the story; she didn't need to.

"How could you invade the privacy of priests?" she asked gently, but in an offended tone that told me this was it. "Why do you always write so badly about the Church? Can't you write anything positive?"

I saw her the other day at a baptism. She handed me a basket of chips.

The most vicious scold, however, came courtesy of Father Timothy Freyer of St. Boniface Church in Anaheim. In late September, he set aside a full page of the parish bulletin in English and Spanish to trash my "Lifestyles of the Rich and Pious" piece. I didn't even mention St. Boniface in the story, but the pastor still felt moved enough to question my credibility. Incredibly, he also defended Brown's philosophy of moving priests out of spacious rectories and into private mini-estates far from the maddening faithful.

This from the man who presided over my sister's quinceañera.

Freyer's pseudo-bull was the closest I came this year to abandoning Catholicism—wait, you thought I was atheist? Or a Jew? Oh, ye of little faith: welcome to my cross.

When I mention I'm Catholic, people smile. When people see the rosary hanging from my car's rear-view mirror and the St. Jude Thaddeus prayer card taped to my garage opener, they figure I'm into kitsch. When I mention I'm a practicing Catholic, their faces twist in disbelief. I know what they're thinking: How could I remain faithful to the Church when I spend much of my work day—an entire year!—eviscerating the Church with stories such as "Boy-Buggering Bingo!"?

The answer is simple: 11 a.m. Sunday Mass at St. Boniface.

This is my home parish. This is where I learned about social justice, where I plan to marry—ladies, my e-mail is below—and where I hope to have my funeral, though not as soon as some would hope. It's also the parish that hosted one of the county's most notorious pederast priests, Father John Lenihan, the man who gave me my First Communion.

The Orange diocese wouldn't defrock Lenihan for his crimes until 2001, and that was only after he admitted to having sexual relationships with adult women. But even during the late 1980s, when I was a kid there, it was common knowledge among St. Boniface parishioners that Lenihan raped girls while a priest at St. Norbert's in Orange during the 1970s. That didn't seem to bother anyone. Father John was a welcome presence in every facet of St. Boniface's energetic social and liturgical calendar: catechism classes, weddings, First Communions, pro-amnesty drives, everywhere. When he left St. Boniface for St. Edward in Dana Point in 1995, many of the faithful tearfully begged then-Orange Bishop Norman McFarland to keep Father John with us.

At the time of my First Communion in 1988, I was too young to know what rape was, except that it had something to do with men being mean to women and, like watching an R-rated movie, it guaranteed Hell. As I prepared for that day, I remember asking my parents, catechism teachers, even other priests, why Father John was allowed to officiate over something so important if he had done something so bad. I heard the same half-explanation from everyone: "Father John has a problem."

I didn't think much of it until late last year. That's when my editor asked if I could investigate the sex-abuse scandal plaguing the Catholic Diocese of Orange. I was noncommittal until a sex-abuse survivor visited the Weekly's offices carrying a stack of damning documents. Thanks to those, I discovered that 30 other priests shared Lenihan's "problem." That "problem" destroyed the lives of children into their adult years and, thanks to a December agreement between the church and victims, will now cost the faithful $100 million. It's the largest sex-abuse settlement in the history of the Catholic Church.

"Father John has a problem."

When I attend Mass and see the Vietnamese youth group selling car-wash tickets as a fund-raiser for their Christmas pageant because there's not enough money, I think about "Father John has a problem" and realize what a lie it was. Father John didn't have a problem; we did.

Around Thanksgiving, my parents had that look again. Another article of mine translated by someone. That would've been the one called "More Bang, Please," which disclosed how Brown spent $350,000 on a PR firm to spin his pedo-lies.

I wasn't seeking another confrontation. Earlier in the day, a sex-abuse victim who pleaded anonymity thanked me endlessly over the phone for my work. The person was one of about 20 different victims of priests who called to thank me over the past year. While I'm always grateful, the calls drain me—as much as I've grown accustomed to it, it's hard hearing a molestation survivor describe their preteen violation in devastating detail.

By then, I was already refusing the Body of Christ from priests, preferring to receive the host from a lay Eucharistic minister. And still, when the collection basket passes my pew, I stare ahead.

But my parents didn't want to hear about my theological problems this most recent evening. All they wanted to know was whether the $350,000 figure in my story was correct. Sí, sí, I tiredly assured them.

They remained silent. "What you're doing is good, Gustavo," my mom finally said. She resumed watching some weepy telenovela. Our Virgin of Guadalupe statue above the television never looked so radiant.

GARELLANO@OCWEEKLY.COM