Bishop Sullivan Center renews goal of curing killer heat in K.C.

By Kevin Kelly
Catholic Key
June 16, 2002

http://www.catholickey.com/index.php3?gif=
news.gif&mode=view&issue=20020616&article_id=1917
0616eldercool.jpg

KANSAS CITY - Although a brief shower had just passed through the neighborhood June 3, the air was stifling inside Rosie's house on College Avenue.

Rosie, an elderly woman who cares for her grandchildren during the day, had to stop and catch her breath from the exertion of merely answering her front door.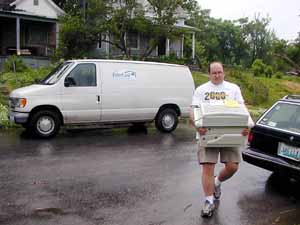 Seminarian Shawn Ratigan delivers an air conditioner to an elderly woman through Project ElderCool, a Bishop Sullivan Center program. Kevin Kelly/Key photo
But the sight of seminarian Shawn Ratigan carrying a brand-new air conditioner brightened her eyes.
"Oh, praise the Lord," she said.
Rosie, who asked that The Catholic Key not use her last name, will finally get some relief from the summer heat, thanks to Project ElderCool, now in its third full year.
The program was launched by the Bishop Sullivan Center after executive director Tom Turner learned that summer heat in 1999 claimed 21 lives, most of them poor elderly citizens.
Turner marshalled what resources he could find late that year and began buying and giving away small window-mounted air conditioners for Bishop Sullivan Center clients who were at the most danger from the late summer heat wave.
Over next several months, the Bishop Sullivan Center sought corporate and private donations and spread the program citywide through a network of social service agencies by the time the summer of 2000 began. By the end of the summer, the program gave away 432 units, plus it deposited $50 in the utility accounts of each person receiving an air conditioner so that they would have the money to run it.
Despite a record-breaking late summer heat wave that year, only 11 heat-related deaths were recorded in Kansas City.
Last year, armed with $77,000 in private donations and another $20,000 from Bishop Sullivan Center's operating funds, Project ElderCool was able to install air conditioners in another 532 homes, a 23 percent increase over 2000. Once again, only 11 heat-related deaths were recorded in the Kansas City metro area.
Sometime this month, said Bishop Sullivan Center Special Projects Manager Colleen Raveill, Project ElderCool will install its 1,000th air conditioner. But the program won't be considered a success until no heat-related deaths are recorded, Raveill said.
Raveill said she fully expects the number of air conditioners this year to at least match last year's increase.
"If it increased 23 percent last year, it's going to go up from there," she said.
Raveill also has faith that the generosity of the Kansas City community will keep donations in pace.
"It's like loaves and fishes," she said. "Donations kept showing up whenever we needed it."
Raveill said some people have offered used air conditioners, but the program will only purchase and install new units for two reasons.
"The new units are more energy efficient, plus they are under warranty," she said.
In addition to the free air conditioner program, the Bishop Sullivan Center has joined in a partnership with KSHB-TV (Channel 41) in an awareness program that will stress common sense steps to take during a heat wave.
"Things like stay indoors or go somewhere that is air-conditioned like a public library, drink plenty of fluids," she said. "But people, particularly older people, are afraid to open their windows or afraid to turn on their air conditioners because they don't have the money to pay for it."
Raviell said the success of the program depends on small donations from the public, but hasn't had difficulty in the past with getting them.
"Everyone can relate to heat," she said. "Even if you spend your day working in an ice factory, you have to get into a hot car to go home, and you know how that feels."
The beauty of Project ElderCool, she said, is that it has "a beginning, a middle and an end."
"You plug it in, turn it on, and you feel relief immediately," she said.
To be eligible for an air conditioner, a client must be low-income and living in a home that has no working air conditioner in any room. Although Project ElderCool volunteers will install a unit in a home, insurance and safety regulations prohibit the volunteers from removing an older, broken unit from any window.
Those seeking an air conditioner may call Raveill at the Bishop Sullivan Center at (816) 231-0984.
Those wishing to contribute to the program may send checks payable to Bishop Sullivan Center with the notation "Project ElderCool" and mail them to the center at 6435 Truman Road, Kansas City, Mo. 64126.