Eisenberg Commission releases final report
Includes procedure that considers 'rights of the victim-survivors, clergy'

By Sam Lucero
Catholic Herald
September 19, 2002

http://www.lakeshorecreative1.org/2002/2002-09-19/index.html

Milwaukee -- In its final report to Milwaukee Archbishop Timothy M. Dolan, a special commission recommended that the archdiocese seek written assurances from religious orders that their members serving here have no records of sexual abuse of minors.

In addition, the commission -- appointed by former Archbishop Rembert G. Weakland last March to review how the archdiocese handles allegations of sexual abuse by priests -- recommended that the archdiocese "act proactively in identifying and addressing any psychological problems of clergy."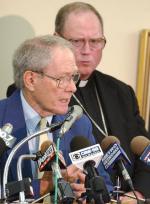 FINAL REPORT -- Eisenberg Commission chairman Anthony Kuchan addresses the media while Archbishop Timothy M. Dolan looks on. Dolan accepted the commission's final report Sept. 12. (Photo by Sam Lucero)
Dolan accepted the commission's report during a meeting Sept. 12 at the Cousins Center. A media briefing followed to discuss the report.
Many of the recommendations submitted by the commission were included in a preliminary report submitted April 26 by the late Howard Eisenberg, dean of the Marquette University Law School, who died June 4. Eisenberg agreed to chair the five-member commission, which is now referred to as the Eisenberg Commission.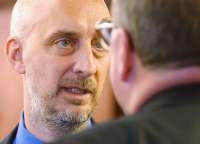 VICTIMS' ADVOCATE MEETS DOLAN -- Peter Isley, Midwest regional director of SNAP (Survivors Network of those Abused by Priests) talks to Archbishop Timothy M. Dolan following a press briefing at the Cousins Center Sept. 12. (Photo by Sam Lucero)
Tribute paid to Eisenberg
During the press briefing, Dolan and Anthony Kuchan, who succeeded Eisenberg as commission chairman, paid tribute to the Marquette professor for his service.
"Howard worked with great diligence on the report," stated Kuchan. "In fact, he was the one who crafted the original preliminary report, and the final report basically was built upon the work that he did in the early stages."
Dolan said that on the previous day he had visited Phyllis Eisenberg, expressing sympathy upon her husband's sudden death and appreciation for his work on the commission. "I assured Phyllis that Dean Eisenberg would indeed remain alive in this archdiocese with the implementation of the recommendations of the commission that inherited his name."
Dolan said he accepted the commission's report "with immense gratitude and real sense of urgent responsibility."
"The protection and care of our children is the number one priority for me as archbishop of Milwaukee," he stated. "Our policy is sound, yes. Our past implementation of it has, at times, not been effective. We will enforce the archdiocesan policy with vigor."
Dallas Charter resolved some issues
The final report summarized the three matters it was asked to review:
• Observe the current archdiocesan policies on sexual abuse by diocesan clergy and make recommendations for improving the procedures.
• Offer recommendations on the cases of six priests who, at the time, had credible allegations of sexual abuse of minors in their past and were still in active ministry.
• Whether the archdiocese should adopt a zero tolerance policy in which clergy who have abused minors are removed from active ministry.
The last two items were resolved without need of the commission's final input when the U.S. bishops in June passed their Charter for the Protection of Children and Young People. The charter called for the removal of clergy with even one credible allegation of sexual abuse, and for zero tolerance.
In April, when the commission's preliminary report was issued, it was recommended that the archdiocese disclose the six priests' names by Sept. 1. All six priests -- Fr. Franklyn W. Becker, Fr. David J. Hanser, Fr. Michael G. Krecji, Fr. Daniel J. Massie, Fr. Thomas A. Trepanier, and Fr. Jerome A. Wagner -- have since left active ministry.
In addition, two other priests, whom allegations of sexual abuse of minors were verified after the commission's formation, have also stepped down, Fr. James M. Godin and Fr. James Jablonowski.
Procedure in place for future
Kuchan said the commission saw as its main objective "to establish a procedure that ... would give appropriate consideration to the rights of the victim-survivors and the rights of clergy who would be accused of minor abuse.
"We think we now have a procedure in place that will do justice to both sides of that issue," added Kuchan.
In recommending a proactive approach to identifying and addressing psychological problems of clergy, the commission offered three suggestions:
• That the archdiocese continue its policy of screening clergy candidates for psychological, addictive, and sexual disorders.
• That an ongoing program on prevention of sexual abuse be established as mandatory for all clergy and church professionals.
• That the archdiocese provide independent professional assistance for clergy affected by psychological, addictive, and sexual disorders so that problems can be resolved before destructive behavior occurs.
Policies should be shared with religious
With over 330 religious order priests (according to the 2002 Wisconsin Pastoral Handbook) serving in the Milwaukee Archdiocese, the commission recommended the archdiocese share its policies on sexual abuse with religious communities.
In addition, religious superiors must provide the archdiocese with written documentation that no credible allegations of sexual abuse exist against any of their members serving or seeking to serve here.
"If the archdiocese receives a report ... the archdiocese should immediately notify the civil authorities and then notify the individual's appropriate superior about the allegation," the report states.
In response to a question about religious order priests serving locally, Barbara Anne Cusack, chancellor, said the archdiocese has documentation on all religious order clergy who have served here over the past 10 years.
"Now we're going to go back and say any one who has served longer than that, who did not supply documentation, that they would do that," she said, adding that the archdiocese is planning to request updated information on all religious now serving in the diocese.
Outside investigator reviewing one case
Cusack, in response to a question about new allegations of priests in the archdiocese, said three cases were referred to the archdiocese by the district attorney that fell outside the statute of limitations. "They were reviewed by (former Milwaukee County) Judge John Fiorenza."
Fiorenza was appointed by the archdiocese in July to serve as an outside investigator in sexual abuse cases that are not pursued by district attorneys' offices.
"There was one allegation that both the district attorney and Judge Fiorenza found without merit. The (second) individual has since stepped down from ministry," Cusack said. "The other (case) is still with Judge Fiorenza being examined.... He has no other cases he's looking at."
Dolan has asked the commission to reassemble next Sept. 12 to review how the archdiocese has implemented its recommendations. Commission members, in addition to Kuchan, include: Arthur Derse, director of ethical and legal affairs and associate director of the Center for the Study of Bioethics at the Medical College of Wisconsin, the Rev. Donald R. Hands, Episcopal priest and psychologist-supervisor at the Milwaukee Secure Detention Facility, and Sinsinawa Dominican Sr. Mary Howard Johnstone, an attorney and victim advocate.
The church has learned much about sexual abuse of children over the past eight months, Dolan told reporters.
"For one, we have learned that sexual abuse of a minor by anybody is a crime, and sin and a tragedy. When the abuser is a trusted representative of the Lord, the horror is even more great," he said. "There is no room in the ministry, to quote Pope John Paul II, for such a priest."
A second lesson learned, he said, "is that we can never say 'I'm sorry' enough."
Dolan apologizes to victim-survivors
"Since this is the first time you have heard me speak on this dreadful matter, I want to say from my heart, I apologize to the victim-survivors for the immense suffering that you have endured," said Dolan.
He said that healing for victims is at the forefront of the church's outreach and he encouraged anyone abused by a priest to come forward.
A final lesson, he said, is that the church "can never again do business as usual to keep our children safe." It must "hold abusers accountable both within the church, by having them step down from ministry, and in society, by reporting all allegations to proper civil officials."
Peter Isley, Midwest regional director of SNAP (Survivors Network of those Abused by Priests) and outspoken critic of the church's response to the abuse scandal, was on hand for the press conference. He raised concerns about the report because the commission did not seek input from victims.
He also criticized the archdiocese's failure to involve outside agencies in its outreach to victims.
Kuchan responded that while all four commission members attended listening sessions held in May, input from victims was outside the realm of the commission's charge. Bishop Richard J. Sklba said the archdiocese is looking at the possibility of contracting with an outside agency.
Response should include 'outside counseling'
In an interview, Isley said the church's response should include access to outside counseling.
"There should be an agency, not an individual, so that any victim that comes to the archdiocese ... is referred to an independent agency," he said. "Just as the church has realized that it cannot conduct criminal investigations ... they should not be doing mental health treatment. It's inappropriate to be doing that within church. I think it's a structural flaw that needs to be fixed."
Dolan assured Isley that a review board -- which all U.S. dioceses have been asked to form in compliance with the bishops' charter -- will address victims' needs. The review board will be in place by Oct. 15, added Dolan.
The archbishop said he and Sklba will attend two listening sessions for survivors of clergy sexual abuse, slated for Oct. 22 and 26 (see sidebar).
Isley, who met briefly with Dolan after the press briefing, said he found the new archbishop "personable and warm."
"It seems like he wants to get on this (issue) decisively and quickly," said Isley. "One of the things I appreciated was what he said about ... the distinction between forgiveness and tolerance. That's a message that needs to be widely spread around the archdiocese."
Dolan, in response to a question about abusive priests returning to ministry, said that the church can forgive the sin of sexual abuse through the sacrament of penance, but "forgiveness and tolerance are two different things."
Dolan said his experience as spokesman for the St. Louis Archdiocese in dealing with the sexual abuse scandal taught him a few lessons.
"I have learned that, sometimes it's tough to know what we can do" for victims, he said. "One of the things we can always do is give reverent and sincere attention to what they say. We need to exercise the ears here, because part of the burden, part of the sorrow that these people carry is they know they haven't been listened to in the past."
******************
Listening and support sessions for abuse victims to be held in October
Milwaukee -- The Archdiocese of Milwaukee will hold two listening and support sessions for victims of clergy sexual abuse. The meetings will be held at the Midwest Express Center in downtown Milwaukee on Tuesday, Oct. 22, 6:30 to 9 p.m., and Saturday, Oct. 26, 1 to 3:30 p.m.
Archbishop Timothy M. Dolan and Auxiliary Bishop Richard J. Sklba will attend both sessions.
Victims/survivors, victim advocates, community representatives, Project Benjamin advisory board members, and archdiocesan representatives have been planning the sessions since mid-May. Lina Juarbe of The Healing Center at Milwaukee's Aurora Sinai Medical Center has facilitated the efforts of the planning group.
For more information about the sessions, contact Juarbe at (414) 219-3475.