Listening to the voices of sex abuse survivors

Interview with Leah McCluskey by Michelle Martin
Administrator
Archdiocese of Chicago's Office of Professional Responsibility
The Catholic New World
March 14, 2004

http://www.catholicnewworld.com/cnw/issue/2004/interview_031404.html

Up an elevator in a downtown building full of medical and other offices, down a nondescript hall and behind a plain wood door, Leah McCluskey listens to the stories. McCluskey, a licensed social worker with a master's degree in social work, is the administrator of the Archdiocese of Chicago's Office of Professional Responsibility. When someone says they were sexually abused as a minor by a cleric, she takes the call.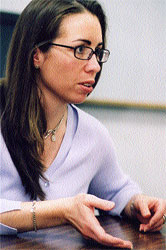 Leah McCluskey: "That's the purpose of us being here. It's for people to come forward, in whatever manner they can, in whatever time frame they can." Catholic New World photo / David V. Kamba
McCluskey has worked with sexual abuse victims and their families and with perpetrators of sexual abuse for nearly 10 years. She started with the archdiocese in August 2002, going full-time in January 2003.
She talked with Catholic New World staff writer Michelle Martin a week after the release of the John Jay College of Criminal Law statistical study of clerical sexual abuse in the U.S. Catholic Church.
The Catholic New World: What happens when somebody calls?
Leah McCluskey: Any allegation of misconduct with a minor by a cleric (priest or deacon) comes to this office. I explain ... I would like to meet with them, preferably face to face, so (they) could tell me (what) happened.
I also let them know that someone from our assistance ministry would be present to explain what support the archdiocese could offer. My office and assistance ministry have nothing to do with financial settlements and attorneys. I explain that so they know it's separate. I ask them to bring anyone with them to make the meeting more secure for them. People bring spouses, friends, some have brought their parents, some bring their attorneys, some bring their therapists and some come on their own.
If I know it's (concerning) an archdiocesan priest, I can send them the policies and procedures of our office, and tell them it's on the Web site (www.archchicago.org).
Throughout this process, I let them know they have choices and they have control over how they would like things done.
I also let them know I will take notes and write a draft report which I will forward to them. They (can) make corrections or additions. If (the accused is) an archdiocesan priest and (living), I'll notify the Vicar for Priests Office that we have a formal allegation. The Vicar for Priests then contacts the priest.
TCNW: Then what happens?
LM: The vicars are wonderful. If the man is (already) in a monitored setting, we know exactly where he is. If it's someone who has been resigned from the priesthood for many years, they track them down through various means. The majority of men who already have allegations against them not only have a canonical advocate, but they also have a civil attorney who will usually advise them how to respond. Then we have a meeting, usually face-to-face.
Then I write a report in the very same manner and send it to them ... and ask them to make any corrections and sign off on it. Then I take that information to the independent review board, specifically when it's someone who is or was an archdiocesan priest and is alive.
The review board's two specific charges are the safety of children, number one, and the fitness for ministry. Even if a man is not in ministry any longer, it's still a question of the safety of children.
The process of coming forward is part of the healing process for the victim.
So many people have said to me, "I wanted the archdiocese to know; I wanted the church to know what happened." The review board process (is) in addition to their healing process, not a completion of it.
TCNW: What is the review board looking for?
LM: The review board looks at all the information: was it a situation where a child was put at risk and was a child sexually abused? It could be physical, it could be verbal, it could be pornographic materials shown. It does not make any difference how many times, or once. Was this child abused by this man? Did he commit an act of sexual abuse?
The review board is a two-stage process. First I present all the information. Father Dan Smilanic is our promoter of justice, as well as the cardinal's delegate (to the review board). He helps me look for files and information.
At the initial review, the board is charged with determining whether this seems to be true of an offense. They don't make a recommendation of yes this happened, or no it didn't. It's simply, does this seem to be an offense?
That is sent to the cardinal (who) makes a decision based on the recommendation. If he decides that it seems to be true of an offense, he initiates a preliminary investigation and names me as the auditor. Essentially, that means Father Smilanic and I go through all the information (and) files we can.
TCNW: Such as?
LM: Such as assignment dates, to make sure this man was where he was according to the allegation. It's not to doubt the victim. It's to substantiate the facts. I have 30 to 180 days to bring that back to the review board for the final stage of the process, called the review for cause. Both the accused and the accuser (can) provide any additional information. Then the board makes a recommendation on whether there is reasonable cause to suspect the misconduct did occur. Those recommendations go to the cardinal, who makes the final decision.
TCNW: My understanding is that at the end of the initial review, when it goes to the cardinal the first time, if he decides it seems to be an offense, he will suspend a priest.
LM: Yes.
TCNW: How long is that after the first time somebody calls?
LM: That depends. Some people who call are from out of town. We are very fortunate in this archdiocese that the cardinal wants us to do whatever we have to do, either for us to go to them or for them to come to us. Sometimes it depends on an individual's work schedule; sometimes it depends on my availability with the number of allegations we're receiving. I would estimate anywhere from one to two weeks before we actually meet. Getting it to the review board has been slowed a bit since we started sending the draft reports (to the accuser and the accused) for review.
When I receive an allegation against a man who's active, obviously that is something that needs to be addressed immediately. When I receive allegations against men whom I know are withdrawn, and I know they are in a monitored setting, I still bring the cases before the board, but in the interest of the safety of children, the first priority would be the case of the man who's active.
TCNW: What if the priest has died?
LM: Those are not brought before the board. That was recommended to the cardinal in November 2002. The reasoning was not to stop anyone from coming forward, but because it was very difficult to make a recommendation in a case where the man could not respond to the allegation. The cardinal accepted that, so (when) individuals (make) allegations against deceased priests, I meet with them and write a report like I would in any other case.
A copy goes to assistance ministry, which would continue to work with the victim.
TCNW; What do you do with a religious order priest?
LM: I'll let the individual know I need to call the provincial and find out exactly what their process is. Some religious orders have a very set process. Some are much smaller than others. In some cases, I have had them ask if we could help. I request that someone from the religious order be present when we meet. I check with the individual first—there are some people who don't feel comfortable meeting with clerics and they don't want a cleric present. In those cases, I try to give as much information as I can.
Even when the order has its own process, I still open a file here so we have the information, and I ask the religious order to let me know what steps they have taken.
TCNW: How many allegations do you get?
LM: Allegations have come in on a fairly regular basis. Anytime there's something in the press, the John Jay study ... that generates more phone calls and e-mails and letters. That's really what we want. That's the purpose of us being here. It's for people to come forward, in whatever manner they can, in whatever time frame they can. That is what we welcome.
TCNW: If there were someone who had been abused and was thinking about calling, but was reluctant, what would you tell him or her?
LM: I would tell them, when an individual comes forward, it is their choice, and everyone has their own time frame. Whenever it feels right for that individual to come forward, that's when they should. There are some people who have said they waited for their parents to pass away. Some have said they weren't emotionally ready. When I speak with somebody on the phone that I can tell is very emotional, or if they have explained in an e-mail or letter, I explain that we are here, and we will be here, when they are ready. I would never ask anyone to meet with me if they were not ready to.
TCNW: And while this is going on, they can be working with assistance ministry?
LM: Absolutely, regardless of whether they want to meet with me first. They have such wonderful resources in that office, and the people are wonderful.
There are many people they have helped through therapeutic support, pastoral outreach, and they have helped individuals come to a point where they are ready to come in and formalize an allegation. Oftentimes, we are the first people they've talked to as "the church" since this happened, so it's very emotional for many people. As you noticed, our office is separate from the Pastoral Center, and there's a reason for that. It takes a lot for someone to make a phone call, to write a letter or an e-mail, to put down on paper or verbalize the things they have been thinking and experiencing for anywhere from a year to 70 years. It's a credit to each one of them who is able to come here, who feel that it is right for them.
The cardinal is extremely supportive in terms of working with assistance ministry and he always says, please tell me if there is anyone who wants to meet with me, and assistance ministry works to arrange a meeting. But he certainly doesn't want to meet with anyone who doesn't want to meet with him.
TCNW: What do you find most frustrating and affirming about doing this?
LM: Change is hard for anyone, and change is hard for any group. I am frustrated sometimes with the process myself, and knowing I am part of that frustration, in terms of the amount of time sometimes it takes for a resolution. And that goes for the accused as well. This is a continuing process, and we learning as it is going on. The church has never been through anything like this. The process is a long process, and it takes a lot out of people, both the survivors and those accused.
Affirming? I have no vote (on the review board). I don't make the decisions. Ideally, what I try to do is create an environment where someone can share what they need to share. I try to create an environment that's comfortable, not only to hear a story but to hear a response to a story. At the end of a meeting, when someone says this is something they've wanted to do for so long, it's very affirming. It's very empowering for individuals to come forward, but also the men who have been removed or withdrawn. … Any therapeutic plan ideally would work better if you include the individual as part of the plan, working together towards healing, and that's on both sides. That's the part that keeps me coming back every day, working towards healing on both sides.
To report abuse, call (800) 994-6200. For Assistance Ministry, call (312) 751-8267.