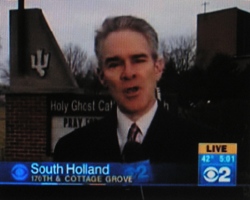 [Reporter Jay Levine]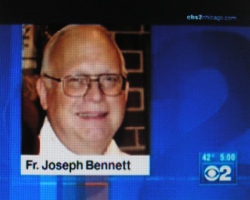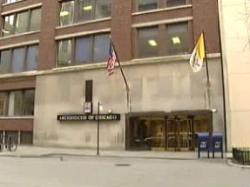 [Archdiocese of Chicago]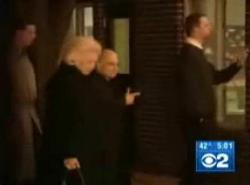 [Cardinal George and Pastor Larry Dowling (right) enter St. Agatha's on January 30, 2006]

[George at St. Agatha's on January 30, 2006]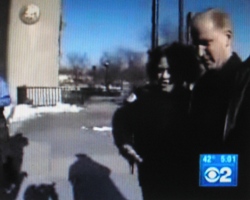 [Rev. Daniel McCormack]

Another Priest Removed After Abuse Charges

By Jay Levine
CBS 2 Chicago
February 1, 2006

http://cbs2chicago.com/topstories/Chicago.Archdiocese.2.324541.html [With videos from which CBS assembled this and several other stories. The photos on the right are stills from those videos.]

South Holland - The Archdiocese of Chicago has removed another priest from the pulpit Wednesday after allegations emerged of sex abuse against two eight-year-old girls decades ago.

CBS 2 Chief Correspondent Jay Levine reports the decision was made immediately after Monday night's tumultuous meeting at another parish where a priest was left in place despite charges of sexual abuse.

This time, Father Joseph Bennett knew of the charges for more than two years, but he remained at Holy Ghost parish despite them. He was put on administrative leave yesterday.

Bennett is a 40-year veteran, having served in eight Chicago area parishes since he was ordained in 1966.

The charges, which date back to the late 1960s and early 1970s, involve two alleged victims, both eight-year-old girls and their allegations of sexual intercourse with the priest while at St. John De LaSalle.

CBS 2's Jay Levine spoke to the first victim, Therese, who is now in her 40's but remembers well what she says happened when she was just eight years old.

She says Bennett, then a young priest just years out of the seminary "convinced her that sexual intercourse was acceptable and a good thing."

She says she was scared, and crying, in pain, but "back then anything a priest said was a good thing."

Therese said she was motivated to come forward "after intensive therapy. All I kept thinking about was that little girls were in danger."

She wanted to get Bennett away from children.

She reported the incident in 2003 and was told it would take a few weeks to investigate, despite describing what happened and producing details and descriptions of the priest that only someone with intimate knowledge could know. However, no one followed up on her allegations.

Francis Cardinal George first disclosed that there was another priest being investigated at Monday night's session with another parish whose priest, Father Dan McCormack, was removed last month following allegations of sexual misconduct with young boys.

McCormack is due back in court at noon Thursday to answer new charges involving the abuse of another West Side youth.

The cardinal claimed he was allowed to remain in ministry because the archdiocese was unable to contact the victim.

The priest removed from Holy Ghost in South Holland was first accused by Therese in 2003 and by a second victim in 2005.

Bennett was allowed to remain in ministry because "allegations date back 35 years," according to an archdiocese spokesperson and was "a difficult case with conflicting information."

Bennett remained in ministry at Holy Ghost Parish in South Holland for more than two years after Therese came forward and for months after a second woman came forward with near identical charges.

Former chairperson of the Bishop's National Review Board, Judge Anne Burke, calls this a cover-up worse than the priest abuse scandal in Boston.