Web Site Documents a Crisis
Victims, advocates turn to organization for accounting of church scandal
By Chuck Colbert
National Catholic Reporter
March 3, 2007

http://ncronline.org/NCR_Online/archives2/2007a/030207/030207h.php

Waltham, Mass. — Five years ago, internal documents of the Boston archdiocese, forced into the open by court orders, showed a pattern of bishops protecting abusers, covering up crimes, and putting children at risk. Nationwide, documents and press coverage revealed a similar phenomenon from Long Island, N.Y., to Los Angeles, from Manchester, N.H., to Louisville, Ky., to Davenport, Iowa. Never before had so much information about the Catholic church come out in the open for public scrutiny.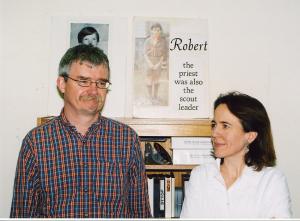 Terence McKiernan and Anne Barrett Doyle, codirectors of BishopAccountability.org, in their Waltham, Mass., office. [Photo by] Chuck Colbert.
Since June 2003, Terence McKiernan and Anne Barrett Doyle, codirectors of BishopAccountability.org and still practicing Catholics, have been archiving the once secret files of bishops. They also have collected and put online survivors' accounts, attorneys general reports, depositions and review board records.
The documents not only preserve a rare look behind the chancery doors at the reasoning of church leaders in a time of crisis, but they have also proven a boon to prosecutors, investigators, abuse victims and those simply looking for answers to the question of how the scandal could have grown to such outsize proportions in an institution dedicated to spreading the Christian message.
BishopAccountability.org's largest collections of documents are from Boston (40,000 pages), Manchester (9,000 pages, all posted online), and Orange, Calif. (4,500 pages).
The organization, a nonprofit corporation based in Waltham, Mass., is dedicated to consolidating and preserving the whole public record.
BishopAccountability.org is "my bibliography and case study," said Peggie Thorp, editor of In the Vineyard, the national Voice of the Faithful newsletter.
Timothy D. Lytton, professor of law at Albany Law School, said BishopAccountability.org was "incredibly useful" in his legal research, reducing a five- to 10-year project down to a two-and-a-half year effort. Lytton is the author of a forthcoming book, Holding Bishops Accountable: How Lawsuits Helped the Catholic Church Confront Clergy Sex Abuse.
Fr. Tom Doyle, a canon lawyer and survivor advocate, said the organization has "got real stuff" and "not statements of the bishops," adding, "The documentary evidence shows what really happened."
Early on when the Boston scandal unfolded, McKiernan, who founded the organization, became fascinated by the documents, which were the core of the story "about sex and power" but more important, "about information," he said in a recent interview. In transferring priests from assignment to assignment, he explained, "the bishops knew but did not tell the people what they needed to know to protect their children."
For Anne Barrett Doyle, knowledge is power. "The act of organizing information makes it 100-fold more powerful," she said. "Information that is accessible becomes operative in the real world."
"Every great movement needs a library," Barrett Doyle explained during an interview. "We facilitate the work of everyone from public prosecutors to lots of survivors, who ask us to do research."
A significant research service performed is the compilation of a database describing allegations against more than 2,900 U.S. priests. The group has posted detailed assignment records, including parish and chancery appointments and, in many cases, telltale leaves of absence.
"Unpacking the documentary evidence can be helpful," McKiernan said, adding that transfer policies of bishops can be evaluated. "Certain parishes have been dumping grounds, and people ought to know that."
Assignment records provide validation for survivors still dealing with their abuse. "Among the first questions of every survivor: Has my perpetrator hurt others?" said David Clohessy, national director of Survivors Network for those Abused by Priests, known as SNAP. Other concerns are: "Where is he now? What did the bishops know?" he explained, adding, "The only place to go for the info is BishopAccountability.org."
SNAP president Barbara Blaine expressed "gratitude" for the "skillful sensitivity" of the organization's handling of information, specifically, she said, the posting of photos of predators that in some cases may be "triggers for survivors." One balance, Blaine said, "It's far more beneficial" to get out all the information, which is "consoling to victims to know they are not alone."
Every day, retired journalist Kathy Shaw updates the Abuse Tracker, a blog digest of links to media coverage of clergy abuse. That information, posted on the Web site, keeps BishopAccountability.org "updated in real time," McKiernan said. "The database of accused priests is also updated every day, so that 'new' names are added immediately."
In an Internet age of rapidly available information, law enforcement officials also rely on the organization's resources. Charles Gallagher, deputy district attorney for the city and county of Philadelphia, said the Web site's posting of various grand jury reports assisted his office in checking for similarities and patterns in the transferring of perpetrators from one jurisdiction to another.
Philadelphia's district attorney released its grand jury report, perhaps the longest and most detailed to date, on Sept. 21, 2005. Within a week, BishopAccountability.org had posted a version of the report with photographs of accused priests, all on a single easy-to-navigate page, with links to separate sections that were smaller and quicker to download. [See the Philadelphia grand jury report.]
Gallagher, who served as senior prosecutor, said his office wanted the report "widely distributed" and "easily accessible," hoping "other victims would come forward."
Even diocesan officials point to BishopAccountability.org for information. Two years ago in New Hampshire, as survivors and church reform advocates pressed the Manchester diocese to release the names of credibly accused priests there, vicar general Fr. Edward J. Arsenault told a gathering at the chancery that names had already been released and could be found on the BishopAccountability.org Web site. "I couldn't believe my ears," said Carolyn Disco, who was there.
Disco, who chairs the local Voice of the Faithful chapter's survivors support efforts, said, "Plaintiffs have fought page by page for the release of documents." Yet, "bishops and their lawyers do whatever it takes," stalling release time "to minimize further damage" because, Disco said, the "documents extend and reveal the truth."
Chuck Colbert is a Massachusetts-based freelance writer.