Students Find Christ in Guatemala

By Kevin Kelly
Catholic Key
August 17, 2007
http://catholickey.com/index.php3?gif=
news.gif&mode=view&issue=20070817&article_id=4601

ST. JOSEPH - Until it is seen first hand, no book or magazine can possibly tell the story of Third World poverty, a group of students from Bishop LeBlond High School learned this summer.
"It was an opportunity to help the poorest of the poor," said Alex Kreidler, a senior. "That's where we encounter Christ."
"It makes you want to give more," said sophomore Cole Weber. "You never knew how much you had until you saw them do what they have to do just to get by."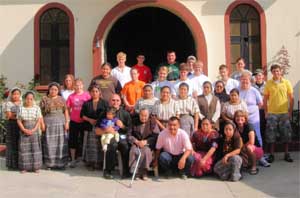 St. Joseph youth and their chaperones pose with people from San Andreas Itzapa during their mission trip to Guatemala in June. Photo courtesy Father Shawn Ratigan
Thirteen Catholic teenagers from St. Joseph - 12 of them Bishop LeBlond students - spent a week in June working with the poor of San Andreas Itzapa, a town in Guatemala that is a sister community of St. Thomas More Parish in Kansas City.
Bishop LeBlond chaplain Father Shawn Ratigan first journeyed to the parish as the newly ordained associate pastor of St. Thomas More. He used his connections with the Kansas City parish to arrange the mission trip for the St. Joseph youth.
Speaking for the group Aug. 7 at St. Mary Parish, where Father Ratigan also serves as administrator, Kreidler and Weber said they were grateful for the experience.
They were also overwhelmed by the hospitality of the Sisters of St. Joseph, who opened their convent to the youth group and their adult chaperones.
"They did everything they could to help us out and make our time there better," Weber said.
This was no summer vacation. They worked hard to help people with small home projects to make their lives better.
They will never forget the single mother of four, living with her family in a dirt-floor shack with no place to cook a meal except an open fire in the middle of the floor.
The woman's oldest son, 15, worked as a field hand. Her daughter, 13, worked as a maid for a wealthy family, and comes home only one weekend per month.
The youths carried bricks, 40 pound bags of cement, and a small stove up an incline too steep for a truck to the family's home. Then they installed the stove and the exhaust chimney.
It was only a slice of daily life for the poor in San Andreas Itzapa.
"They have nothing," Kreidler said. "And there is nothing they can do about it. But they keep going.
"We could help out as best we could," he said. "But we couldn't help them get out of the poverty they were in. We could only ease their pain a little bit."
Father Ratigan is already making plans and raising funds to send another delegation of St. Joseph youth next year.
The students raised much of the money this year, working a garage sale at Our Lady of Guadalupe parish and holding "jeans day" fund-raisers at Bishop LeBlond. Father Ratigan said that Lisa Adams, the mother of one of the students, solicited money from St. Joseph businesses.
Father Ratigan chipped in with a "No Bake Sale" at St. Mary Parish. "I told them I wasn't going to bake anything, just give me the money," he said. It worked.
Both Weber and Kreidler said they would like to return.
In Guatemala, Kreidler learned that "catholic" in Catholic Church means universal.
"I think about it a lot," he said. "It's like a new outlook on life, a new paradigm. It makes you think twice in a good way."
One priest serves the town and thousands of Catholics for miles around. The town's faithful took full advantage of Father Ratigan's presence to celebrate daily Mass.
"That put everything into perspective," Kreidler said. "We are all members of the Catholic Church. We all know the Mass even if it was in a different language. We all have the same love for the church.
"It was an inspiration to delve deeper into the faith," Kreidler said. "We can all pray more for the sisters down there, and for persecuted Christians everywhere."