Low profile, big influence
The man who advises the Catholic church on child sex abuse

By Justine McCarthy
Sunday Tribune
July 27, 2008

http://www.tribune.ie/article/2008/jul/27/low-profile-big-influence/

A controversial report commissioned by the Department of Health into complaints about the mishandling of child sexual abuse allegations in the Catholic diocese of Cloyne is critical of advice received by Bishop John Magee. So, who exactly is solicitor Diarmaid Ó Catháin, the enigmatic legal adviser to Magee and a number of other bishops?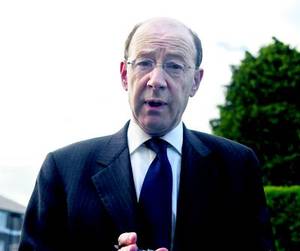 Diarmaid Ó Catháin: controversial solicitor who wields great influence in the upper reaches of the Catholic church PROVISION
People in Cork who are acquainted with him portray Diarmaid Ó Catháin, solicitor to a key coterie of Catholic bishops, as a sort of latterday Samuel Pickwick, Esq, genteel and cerebral and engrossed in his books. "I quite like Diarmaid," says one such Corkonian. "Very old-fashion­ed and a grand fella."
Others have a different picture entirely of the scholarly 57-year-old ex-seminarian. He causes more than a little disquiet among the Irish church's elder advocates for glasnost and modernisation. It was Ó Catháin who advised the octogenarian Cardinal Desmond Connell in his High Court challenge to a discovery order for the Dublin archdiocese's child sex abuse case file back in February. In an affidavit, Ó Catháin attested that his client had only recently become aware his successor as archbishop of Dublin had been discussing with the commission how issues of legal privilege should be determined.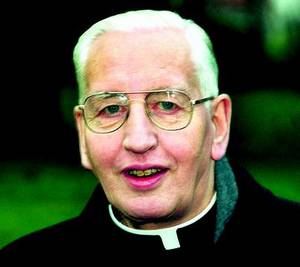 Connell: discovery
It also emerged Diarmuid Martin only learned of the cardinal's High Court intervention on the eve of his application for an injunction. The move against judge Yvonne Murphy's commission of investigation culminated in a PR catastrophe that cast the cardinal in the mould of a secretive, regressive, self-protective Luddite.
Enigmatic figure
As solicitor to the bishops of Cork and Ross, Cloyne, and Limerick, as well as to Desmond Connell,
Ó Catháin's influence has a wide reach. Yet he remains an enigmatic figure, keeping an unusually low profile.
Two years ago he attended mediation talks in a Limerick hotel, on behalf of Bishop Donal Murray, with Peter McCloskey, a 37-year-old father who had been violently and sexually abused by a priest while serving as an altar boy at the age of 10 in Caherdavin parish. Also attending as a representative of the bishop was Fr Gerard Garrett, chairman of the (child abuse) case management committee which is jointly operated by Donal Murray's diocese of Limerick and John Magee's diocese of Cloyne.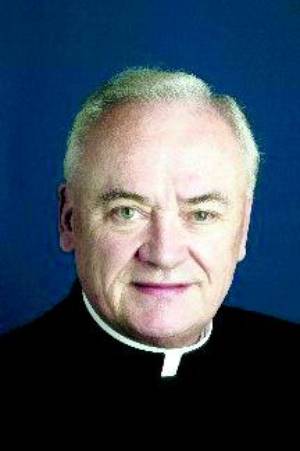 Magee: locked horns
A member of the survivors' support and lobby agency, One in Four, accompanied Peter McCloskey, who was striving to establish the facts of his abuser's paedophile past. His quest had taken him to Australia where the Clare-born priest had been investigated by police in 1963 for something logged in church records as "a moral lapse". But McCloskey's efforts to obtain local church files in Limerick proved fruitless. Two days after that protracted and tense meeting in the hotel, he killed himself. After­wards, it was announced Murray was taking leave of absence due to the strain.
In Cork, where the former city coroner Cornelius Riordan was the bishop's previous lawyer, the staple of Ó Catháin's legal work for the church involves property and probate. Most recently he has been embroiled in internal church conflict as another of his clients, John Magee of Cloyne, locked horns with the inaugural child protection manager, Ian Elliott, based in Maynooth. Elliott's debut report on the diocese's responses to child sex abuse, due to be published next month, is expected to be highly critical of events in Cloyne.
Diarmaid Ó Catháin also acts for sectors of the Irish-language community. He runs a relatively small practice, the office recently relocating from Washington Street to South Terrace. He and his nephew, Rúairí Ó Catháin, are the sole partners. His older brother, Malachy O'Kane, a government appointee in the 1980s to the Irish Legal Terms Advisory Committee, is a consultant to the firm.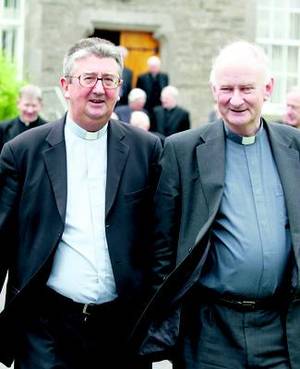 Murray: strain
A portrait of the latter, who also goes by the Irish version of his name, Leachlain Ó Catháin, hangs in the foyer of the Everyman Theatre in the Munster capital to commemorate his role as a founding member. A Leachlain Ó Catháin was appoint­ed by the government to the Irish-language cross-border body set up under the Good Friday agreement.
The brothers grew up in New Ross, Co Wexford where their father, Malachy Kane, an Irish-language enthusiast, was a teacher in the Vocational School. Dermot Kane, as he was known then, was taught by the Christian Brothers at junior level. He is remembered from his time there as "a tempestuous and earnest small fellow" with a ready temper and a bright mind with "absolutely no interest in sport."
He got his secondary education from the Augustinian order at the Good Counsel school in New Ross, going on to study for the priesthood at the University of Tubingen in Germany where the future pope, Joseph Ratzinger, had been appointed to the teaching staff in 1966, along with the rebel theologian, Hans Kung. Ó Catháin's time in Tubingen, plus a further sojourn studying in Rome, did not result in his ordination as a priest but it sowed an abiding love in him for Latin scholarship. It also sowed the seeds of his intimacy with canon law which, according to recipients of his legal correspondence, he quotes liberally in his missives. He is listed as an independent scholar attached to the Centre for Neo-Latin Studies at UCC where the long-term ambition is to gather, edit and translate the full corpus of Latin texts of Irish provenance written since the 1200s. He is regularly in the audience for the centre's weekly seminars and has had his writings published in the Cork Historical Journal. He is the author of several academic books written in Irish, as well as novels. He also contributed to a special publication marking the 800th anniversary of New Ross last year.
'Angelic'
On his return to Ireland from Rome, he completed a degree in Latin at UCD and moved to Cork to obtain his law degree at UCC. He has made his home in the city, marrying the former Geraldine Butler, a Kilkenny-born school teacher who uses the Irish name, Gearóidín. A mother of four children, she is due to graduate from UCC with a PhD in Irish later this year.
"He's conscientious in representing his clients but he's not heartless," says a Cork lawyer. "He's not hurtful. He's pensive and angelic in appearance, a bright guy, affable."
According to someone else who has dealt with him in relation to child abuse complaints against priests, he's "an ideologue" and "inflexible."
In the past month, his client, the bishop of Cloyne, has been threatened with having his record in dealing with such complaints invest­ig­ated by the Dublin Archdiocese Commission of Investigation. Two complaints have been made to the minister for health that the Cloyne diocese failed to comply with guidelines in handling allegations that named priests had sexually assaulted and raped minors.
Inquiries by the Sunday Tribune to the diocesan office in Limerick about Diarmaid Ó Catháin's status as Murray's legal adviser have gone unanswered. A woman in the office of Ó Catháin solicitors said the adviser to Cardinal Desmond Connell and bishops Murray, Magee and Buckley was unavailable to take a call. That was two months ago. He has not rung back.