Fifth Graders Learn That God's Call Leads to Happiness

By Kevin Kelly
Catholic Key
February 27, 2009

http://www.catholickey.com/index.php3?gif=
news.gif&mode=view&issue=20090227&article_id=5557

KANSAS CITY — If you want to be happy, you've got to follow God's call.

That was the message that sisters, priests and Bishop Robert W. Finn gave to the diocese's fifth graders Feb. 17-18 at the 17th annual Vocation Days, held at Archbishop O'Hara High School.

Hundreds of fifth-graders, including those who attend diocesan elementary schools and those who are home-schooled, jammed the high school where together they sang, played games, prayed and ended with Mass celebrated by their bishop, while they heard talks about how God has a special plan for each of their lives.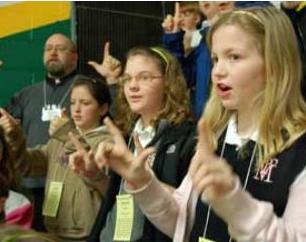 [Photo no longer available on the Catholic Key website; retrieved from Google Images. Rev. Shawn Ratigan is at left. The children were identified by name in the caption to the photo, which stated that they were "of St. Thomas in Kansas City," Ratigan's first assignment as a priest, June 2004-June 2005.]
Father Justin Hoye, pastor of St. Mary Parish in Nevada, told the boys that he wanted to travel the world as a diplomat.
Then the Catholic chaplain at his college began to bother him.
"He loved what he did," Father Hoye recalled. "He was poor. He didn't have any money. But he was happy."
Home for Christmas break, the future priest saw a paragraph in the bulletin at his home parish, St. Sabina in Belton, inviting young men to call the diocesan Vocations Office.
"I said, 'This is it,'" Father Hoye recalled. "I loved my faith. I wanted to be active in it, and I wanted to do something important with my life."
He made the call, but he worried about telling his parents, his friends and his professors in college that he was about to shift gears, big time.
"To my absolute shock, everyone supported me," Father Hoye said. "Even my friends said, 'Oh cool. We don't know any priests. You can marry us. You can baptize our kids.'"
But Father Hoye told the boys that "there is no money in it, no fame or fortune." But there is joy in hearing God's call and following it.
And, he said, he got to follow his dream. As a seminarian, he has studied Spanish, German, Greek, Hebrew and Latin languages. He has traveled to France, Switzerland, Italy, Greece and Turkey. And he got to meet Pope John Paul II at the Vatican.
"It's a great life," Father Hoye said.
Franciscan Sister Mary Clare Eichman pointed to the crucifix on the wall of the classroom.
"Here is my husband," she told the young women before her. "I got married. And at my wedding (her profession of vows), I didn't have just one priest. I had two bishops."
Sister Mary Clare told the girls that there is freedom in her vows of poverty, obedience and chastity.
Poverty, she said, aligns her with Jesus.
"He was born in a stinky, old stable," she said.
There is also wealth in letting the Lord provide, she said, recalling the time that a man in a pickup truck pulled into the Sisters of St. Francis of the Holy Eucharist motherhouse in Independence.
"The truck was filled with ice cream," Sister Mary Clare recalled. "You wouldn't believe the food that comes to us. The Lord gives in abundance."
Fifth graders from Our Lady of Angels School in Westport said they were impressed.
"Even if they have to sacrifice things, they still love to serve God," said Aden Mitiku.
"They told us to work hard, but you can follow your dreams," added Jordan Davis.
Bishop Finn told the fifth graders, assembled next door at St. Regis Church for Mass, that happiness is all about discovering the voice of God inside them and following that voice.
"I bet there are some people in your life that if you picked up the phone, all they'd have to say is one syllable, 'Hi,' and you would know who they are. You'd say, 'Hi, Mom,'" Bishop Finn said.
The voice of God can be like that for those who pray and take the time and effort to hear God speak back, he said.
But unlike a voice over the phone, the voice of God Awill be like a voice on the inside of us," he said.
Being able to hear that voice and recognize it as God calling to us is "one of the most important things in trying to decide our vocation," Bishop Finn said.
"We have to get close to Almighty God. We have to listen to him all the time," the bishop said.
"When we have spent many hours listening to him, God is going to make sure that we know it is him," Bishop Finn said. "Then we have to decide to follow the Lord, Jesus Christ."
What God asks is seldom easy, the bishop said. But God is always there to help.
Recalling the Gospel they just heard of Jesus telling his disciples, who had failed to catch fish that day, to go out in the deep water and throw their nets down one more time, Bishop Finn said that those who follow Jesus' instructions are never disappointed. Like the disciples who hauled in a catch of fish so huge that they could barely get it back into the boat, Jesus will reward those who follow him.
"This is what our Lord may be asking of you," Bishop Finn said. "Will you follow him even into the deep water, even into some circumstances where you don't want to go?
"We have to trust him," the bishop said. "We have to be generous. We have to give of ourselves. He is going to give you whatever you need to fulfill his call."