Faith Moves Mountains . . . In Our Catholic Schools

By Greg Vranicar
Special to the Catholic Key
October 23, 2009

http://www.catholickey.com/index.php3?gif=
news.gif&mode=view&issue=20091023&article_id=5918

Fr. Tom Holder of St. John Francis Regis Parish and Fr. Shawn Ratigan of St. Patrick Parish are very proud and pleased to be part of the education of the hundreds of young people at the grade schools and high schools that they serve. Both priests expressed pleasure at serving parishes whose families make such great sacrifices to ensure their children's success and at a parish community where they can take part in the multi-faceted task of forming the minds, bodies and spirits of so many youth.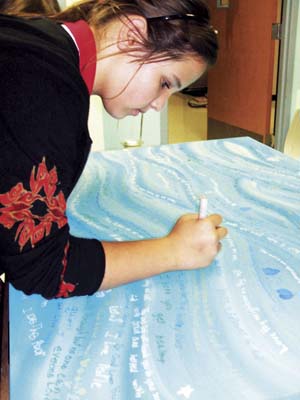 Students engaged in Art Projects to commemorate the canonization of St. Jeanne Jugan for a Mass to be celebrated at St. Regis, October 25.
At St. Regis, where the early childhood education center takes on children as young as six weeks and where the Parish and Schools also serve the Little Sisters of the Poor Home for the elderly, Fr. Holder proudly proclaimed that his community literally serves those "from the cradle to the grave." Fr. Holder has the task of heightening the appreciation of all of the students at St. Regis and at Archbishop O'Hara High School where he serves as Chaplain. He orchestrates the activities of the grade school and high school for the special role they play in the larger community.
A major project at St. Regis Grade School and O'Hara High School in the recent past has been preparation for the special Mass on October 25 to commemorate the canonization of Saint Jeanne Jugan, the founder of the Little Sisters of the Poor Congregation. St. Regis School and O'Hara High School have focused on the history of Jeanne Jugan, special art projects and increasing the service hours at the Little Sisters of the Poor Jeanne Jugan Center. The Center, which is very near the Regis and O'Hara School campuses, allows students from all grades to become more involved with the residents at the Center - singing, reading stories, making greeting cards, and just being present through visits at the Center.
Fr. Holder was careful to point out the great support that St. Regis Parish provides financially to ensure that Regis Grade School has up-to-date technology and facility improvements. This year the Parish had to step up its support as a number of families whose children had previously attended Our Lady of Peace School enrolled at St. Regis. Only through careful stewardship and greater generosity has the school been able to absorb the additional students.
Father Holder is a graduate of O'Hara High School. He previously served as an Associate Pastor at Christ the King and St. John LaLande and as Pastor at Holy Cross Parishes, all with grade schools. About 20 to 25% of the students at O'Hara High School are Regis graduates, so Fr. Holder knows many of the families from his own personal involvement.
Fr. Shawn Ratigan assumed the pastorate at St. Patrick Parish in the past six months. He too relishes that fact that he serves both St. Patrick Grade School and St. Pius X High School. He really tries to be both a role model and mentor to students with whom he works. He previously served at St. Thomas More Parish as Associate Pastor and as Pastor at St. Mary Parish in St. Joseph while also serving as Chaplain at Bishop LeBlond High School. At Bishop LeBlond High School, Fr. Ratigan knew families from all St. Joseph parishes.
Fr. Ratigan related that he did not follow a "straight line" into the seminary, but instead spent about ten years between his completion as a student at St. John's High School Seminary and his enrollment at Conception Abbey and later at Mundelein Seminary for his priestly education. In the meantime, he spent a good deal of time working for his father helping to restore churches all across America, a time during which he "found his vocation." Father Ratigan believes that his sharing of his story helps open up lines of communication that allows him to be a better mentor/counselor to students at St. Patrick and St. Pius X whose family life also is not always "in a straight line."
Fr. Ratigan especially enjoys attending sports events for both St. Patrick and St. Pius X teams as it enables him to see his students and families in a different role. He pays close attention to the extracurricular activities at both St. Patrick and St. Pius X so that he can keep up with the lives of his families. Earlier this fall, Father Ratigan created quite a stir when St. Pius X High School was featured as a Channel 5 Morning News "Cool School" for its students' special efforts at academic, sports and extracurricular activities. Father rode into St. Pius X's gym on his Harley Davidson motorcycle, his trademark.
Both Fathers Holder and Ratigan celebrate Mass weekly for each of their respective grade schools and also celebrate periodic Mass for their high schools. Both also teach a class on the Sacraments at their respective high schools. Integrating the messages of their sermons and classes into the lives of their students is especially pleasing for each of them.
Stepping back from the details of their specific roles as Pastor and Chaplain, Fathers Holder and Ratigan exemplify the busy lives of the parish priest serving in large part to educate our Catholic youth through fine example. Though each has his own distinctive style, the life of the Church depends on men of high character on which to model behavior and from which to draw inspiration.
Each of our grade schools receives daily support from the Catholic Schools Office which is supported by the Bishop's Annual Appeal and each high school receives a direct allocation from your BAA gifts. When you consider your gifts to the Bishop's Annual Appeal, please remember the wonderful work of Fathers Holder and Ratigan for our Catholic Schools.
Greg Vranicar is Associate Director of the Stewardship and Development Office for the Diocese of Kansas City – St. Joseph.