Martha Coakley on the Father Geoghan Story
Video posted by the Blue Mass Group
Interview by Monica Brady-Myerov and another reporter
November 23, 2009
http://www.youtube.com/watch?v=nzPiNvFgizs
[This transcript of the interview was made by BishopAccountability.org from the YouTube video. See also Coakley Made Deal in 1995 Priest Case, by Michael Rezendes, Boston Globe (11/23/09); and Senate 'Forum' Sounds More Like Fiery Debate, by Monica Brady-Myerov, WBUR (11/24/09). This interview occurred after a WGBH Greater Boston program during which Coakley briefly addressed the Geoghan probation deal and the abuse crisis; see our partial transcript. Brady-Myerov mentions information about prior DSS and Boston Police investigations, for which see a 7/11/96 memo by Rev. Brian M. Flatley. The Flatley memo lists Geoghan allegations received by the archdiocese after 1980, and also presents a different picture of the 1995 Coakley-Geoghan probation deal. In the memo, the redaction acronym MGS indicates a male Geoghan survivor.]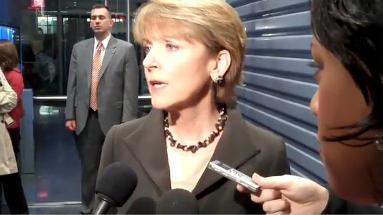 Martha Coakley: So, I think we made exactly the right decision given all the facts and circumstances. We certainly didn't know that the church was sitting on complaints about him – they weren't available to us – and even if we'd known that, it wouldn't have changed what we could do in that instance for those boys.
Monica Brady-Myerov: But did you know that the Boston Police Department and the Social Services had done two prior investigations on other cases – this is according to BishopAccountability[.org] – that there were other substantiated claims that might also not have risen to the level of charges but could have alerted people to what kind of person this was, had it been tried in a public court.
Coakley: But see, we didn't know that, and there was no way for us to know that, either from the church or from Boston. That would also have been irrelevant to these charges. What was most important, and what we accomplished, was taking Father Geoghan out of commission, basically, letting the church know that we knew, getting psychiatric records that he waived his privileges for, that we used, later on. That was the first complaint that we had had in Middlesex County around Father Geoghan; we did exactly what we should have done. I've been protecting kids for a long time, and then had experience, knowing that we had limited options, we did exactly what we should do – we went the extra mile to keep those kids safe and keep other kids safe.
Reporter: Why couldn't we get the church records?
Coakley: They were not available to us. They didn't, we tried in a prior case we described, against Father Manning. They were not relevant to this particular charge. We knew that, well, first of all, we didn't know that the church had other records at the time, there was no way to know that. This was the first public complaint that we had had about Father Geoghan; we had no idea that they were sitting on thousands and thousands of documents. And so, even if we had gotten those records, they wouldn't have affected what we could do about Father Geoghan at that time, and we did exactly what we should have done.
Same Reporter: Do you think you'll lose some votes from those victims.
Coakley: I don't believe so at all. I think that people know that I have a strong record as a child abuse prosecutor, that we took 900 cases a year; we fought for every case we could; we brought charges when they were appropriate, we tried to keep the kids safe when we couldn't bring charges. That's what we did in this case. I stand on my record as a prosecutor, and I will not take a back seat to anybody on my record as protecting kids and keeping kids safe.
Brady-Myerov: So you're saying that you didn't see any DSS or Boston Public, Police Department, any other information about …
Coakley: I was the district attorney in Middlesex County. We wouldn't have seen that, or had access to it, and particularly in this case, there was no DSS involvement, because it didn't involve a caretaker. And so we worked with just the mom, and the police, in this case; we did everything that we could have. I believe that we did a very good job in recognizing that we were limited in what we could do, but in getting Father Geoghan out of commission, on probation, not to have contact with kids, particularly having to go to a psychotherapist, and we had access to those records. That was an important first step for many of the cases that, remember, we brought successfully after that, to convict him, and to hold him accountable. If there is anyone here who should answer to this, it should be the archdiocese. Thank you.