Pilgrimage to March for Life: 'We Have No Choice'

By Kevin Kelly
Catholic Key
January 29, 2010

http://catholickey.com/index.php3?gif=
news.gif&mode=view&issue=20100129&article_id=6083

Blue Springs — They hadn't even boarded the buses and already sleep was scarce.

"One or two hours is very important," said Vickie Kempf, of St. James Parish in St. Joseph, who rose at 1 a.m. to attend a 2:30 a.m. Mass Jan. 21 at her parish before boarding a bus to Washington, D.C., and the annual March for Life on the 37th anniversary of the Roe v. Wade and Doe v. Bolton U.S. Supreme Court decisions legalizing abortion.

"We have no choice but to go to support unborn babies who can't speak for themselves," Kempf said.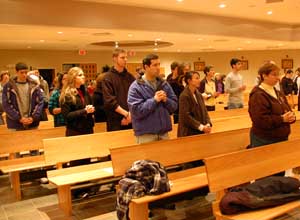 Catholics gathered for Mass at 4 a.m. Jan. 21 at St. John LaLande Parish before they boarded buses that would take them to Washington, D.C., for the annual March for Life. Kevin Kelly/Key photo
Kempf was among 160 people who boarded three buses chartered for the nation's capital by the Kansas City-St. Joseph Diocesan Respect Life Office.
Kempf and one busload that began their pilgrimage in St. Joseph met two more busloads that began their journey with a 4 a.m. Mass at St. John LaLande Parish in Blue Springs.
The 160 pilgrims included the young — elementary school children and a contingent from every diocesan Catholic high school — and the not-so-young including Msgr. Ralph Kaiser, 81, pastor of Church of the Santa Fe in Buckner who concelebrated the pre-dawn Mass with St. John LaLande pastor, Father Ron Elliott.
Msgr. Kaiser said he rose at 2:30 a.m. to make the short drive to Blue Springs, about three and a half hours earlier than his normal rise-and-shine hour of 6 a.m.
This was his third trip to the annual March, and his second in a row by bus — a 24-hour, one-way ride.
"It is something that should be dear to all Christians, the dignity of all unborn life," Msgr. Kaiser told The Catholic Key after Mass as he and the other pilgrims awaited the buses after Mass.
"Abortion is an absolute threat to the dignity of life, no question about it," he said. "It will take all we can do to overcome it."
Though Msgr. Kaiser had a few years on Amelia Ernstmann, a junior at Archbishop O'Hara High School, she outranked the priest as a March for Life veteran. Ernstmann was joining the diocesan pilgrimage for the fourth straight year.
"I strongly believe that abortion is wrong," she said. "It is important to keep going because abortion is still going on. I want to help make an impression that it is wrong until it stops."
"I've been looking forward to going for a long time," said Rosie Swingle, a junior at Blue Springs South High School and a member of St. John LaLande Parish. "I strongly believe in the sanctity of life, and I want to make a statement with a large group of people."
Annually, about 200,000 people gather on the Washington, D.C., mall to make their stand for life on or near the anniversary of the Jan. 22, 1973, decisions that wiped out laws prohibiting abortions in every state.
The size of the crowd last year spurred Anthony Cherian, a freshman at St. Pius X High School, to go again this year.
"When you stepped off the bus, there was just this massive number of people," Cherian said. "There was even a guy holding a sign that said, 'Anarchists for Life.' I thought that was interesting."
But the trip isn't just a lark and a couple of days out of school, he said.
"Under no circumstances can abortion be excused," he said. "It's our job to stand up for what we believe."
Kevin Gordon, a junior at St. Mary High School in Independence, was also making his second pilgrimage in a row, and looking forward to every moment.
"People talk about how hard the bus ride is, but that was one of the most fun parts," he said. "You meet new people, and you find out what it really means to be pro-life."
Gordon's classmate, Tyler Graef, said he had to go because he is Catholic.
"This is what I have been taught my whole life, that everybody has a right to life," he said.
A dozen Rockhurst University students were also among the diocesan contingent.
Justin Langfield said the proximity of the date of the annual March and the national holiday celebrating the life of civil rights leader the Rev. Dr. Martin Luther King Jr. was fitting.
"He saw injustice being done and he voiced his opinion," Langfield said. "Hopefully, our voices can be heard and we can make a change for the better."
Fellow Rockhurst University student April Jecha said her thoughts and prayers were of the 50 million members of her generation who have been aborted since 1973, and those, yet to be conceived, who may be aborted in the very near future.
"It's not like we have a choice," Jecha said. "One-third of our generation is in danger. It's our responsibility to take care of them."
In his homily at the St. John LaLande Mass, also concelebrated with Father Shawn Ratigan, pastor of St. Patrick Parish in Kansas City, Father Elliott told the pilgrims that they were beginning this year's journey on the Feast of St. Agnes, a fourth-century Roman martyr who chose death, at age 13, over renouncing her vow of purity to God.
"She was martyred for taking a moral stand," Father Elliott said.
"We also applaud you," he said. "You are taking a stand for life at great price. This is a tough trip."
Father Elliott noted that the pilgrimage will be a long bus ride to D.C., a long march to the national mall, and a long bus ride home all within a span of about 60 hours.
But he told the pilgrims that "the first treasure God gives us is our being, our existence" and that they are defending that treasure.
"When one day you appear before our Lord, he'll ask you what you did to defend life," Father Elliott said.
"You can say, 'I took a long trip for the dignity of life,' and that's going to count for a lot," he said.