Rev. Fernando Karadima, Chilean Priest, Accused Of Molesting Children, Case Dismissed
by Eva Vergara
Huffington Post
Nov. 14, 2011
http://www.huffingtonpost.com/2011/11/14/rev-fernando-karadima-child-molesting_n_1093656.html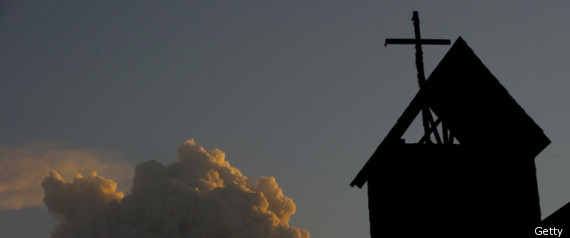 A cloud of ash billows from the Puyehue volcano near Osorno, 870 km south of Santiago, on June 22, 2011.
SANTIAGO, Chile — A Chilean judge on Monday dismissed a criminal case against a prominent priest accused of molesting children, but also determined that the abuse allegations were truthful.
Judge Jessica Gonzalez said the statute of limitations had expired on the crimes that the Rev. Fernando Karadima is accused of committing against three youths. A fourth case was eliminated because the judge said it hadn't been clearly established that the victim was underage at the time.
But she said in her ruling that the allegations are "truthful and reliable." He had been charged with sexually abusing minors.
Karadima is now 81 and the Vatican already has sanctioned him by ordering him to a life of "penitence and prayer."
Lawyers of the accusers could still appeal the decision, though it wasn't clear if they were considering that option.
Last year, Chile's Roman Catholic Church was shaken by a series of dramatic televised interviews with the four men who alleged they were abused by the once-influential priest. They said the abuse by Karadima began about 20 years ago when they were between 14 and 17 years old, in his residence at the Sacred Heart of Jesus church in an affluent neighborhood of Santiago.
Dr. James Hamilton, now a surgeon, said between sobs in the interview that the abuse began when he joined the priest's youth group and continued for years. Three others, including seminarians who saw Karadima as their spiritual leader, made similar allegations.
Juan Carlos Cruz, a journalist who was one of the accusers, said he was "happy because a criminal has been taken off the streets." But he also alleged that Karadima isn't fully complying with the Vatican's sanction has had contact with priests and former parishioners.
Cardinal Ricardo Ezzati said, however, that Karadima has complied with the Vatican's ruling.

"I'm happy that this is over for everyone," Ezzati said.
The case was dismissed three days after Catholic leaders in Chile released a list of 10 priests, including Karadima, who have been formally sanctioned by the country's courts or the Vatican, as well as eight others who are under investigation for alleged sex abuse.
(This version CORRECTS that there had been charges in the case and priest is now 81, not 80)