Priest jailed for child sex abuse
BBC
November 12, 2004
A priest has been jailed for 12 years for sexually abusing five children, including a brother and sister.
Fr Michael Gerard McQuillan, whose address was given as Our Lady of Bethlehem Abbey in Portglenone, admitted a total of 40 charges.
They included indecent assault, gross indecency and four charges of serious sexual assault.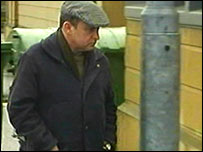 Father McQuillan arrives at the court
A judge said he "deliberately seduced and breached the trust" of his victims, four boys and a girl.
Newry Crown Court heard on Friday he met his victims while he worked as a chaplain at a County Armagh school.
The abuse took place between 1986 and 1993 and much of it happened at the parochial house and during trips to a private swimming pool.
Head in hands
The abuse came to light two years ago when Fr McQuillan was approached by one of his victims. The priest admitted to the victim's mother what he had done, the court heard.
Fr McQuillan was assaulted and when he was interviewed by the police, admitted the abuse had happened.
His victims were at the court to hear a lawyer for Fr McQuillan say he apologised "unreservedly" for his actions.
Fr McQuillan held his head in his hands as the details were read to the court.