Parents don't want bishop confirming kids after he said funeral Mass for pervert priest
By Claire O'Boyle
Belfast Telegraph
February 23, 2018
https://www.belfasttelegraph.co.uk/news/northern-ireland/parents-dont-want-bishop-confirming-kids-after-he-said-funeral-mass-for-pervert-priest-36634737.html

Parents at three Catholic primary schools in Co Down have said they do not want the Bishop of Dromore to officiate at their children's confirmations following recent revelations about paedophile priest Malachy Finnegan.
During an emotional meeting with parents from one school, Bishop John McAreavey - who recently spoke of his regret at celebrating Requiem Mass for Finnegan but refused to step down - is understood to have said he would "reflect" on the issue.
Bishop McAreavey was due to oversee proceedings at the milestone sacrament of confirmation for primary seven pupils in the coming months at St Patrick's Primary School in Hilltown, St Patrick's Primary School in Mayobridge and Carrick Primary School, Burren.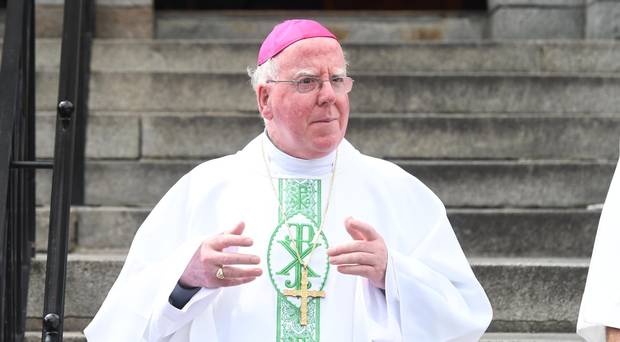 At a meeting last Thursday with the board of governors at St Patrick's in Hilltown, which lies in the parish of Clonduff, parents expressed their reluctance to have Bishop McAreavey involved in the ceremony.
This was relayed to the bishop, and he met parents the following day.
During a meeting held at the parish centre in Newry last Friday, the bishop was asked when he would be tendering his resignation, following his decision to speak at the funeral of the child abuser.
Bishop McAreavey is understood to have said he would come to a decision on his part in the confirmations "in the next few weeks".
Headteacher at the school, Una Lawless, did not wish to comment.
A number of parents of children at St Patrick's in Mayobridge are also believed to have said they do not want the bishop to officiate.
Principal Margaret Ryan also declined to comment, saying it was "not a school matter".
Parents of children from Carrick Primary School in Burren are understood to have expressed similar concerns.
The headteachers at both schools declined to comment.
In situations where a bishop does not carry out confirmations, parish priests are permitted to conduct proceedings.
A spokesperson for the Diocese of Dromore said yesterday: "Some concerned parents from the Hilltown area whose children are to receive the sacrament of confirmation later this year inquired whether they could meet the Bishop last Thursday.
"That request was immediately responded to and a meeting took place on Friday 16. The parents were met by the bishop, the director of safeguarding and an adviser to the diocese. The adviser chaired the meeting. Parents expressed their reservations about this year's confirmation service in light of the revelations of the Spotlight Programme. The bishop made it clear that he understood their position and that he would not be an obstacle to their wishes when the time came. That remains his position."
Dr McAreavey officiated over Fr Finnegan's requiem Mass in early 2002, despite being aware of abuse allegations.
Later that year he met one of the clergyman's victims, and said it was this meeting that made him realise his part in the funeral was "simply a mistake".He insisted he hadn't intended to "honour" the paedophile by speaking at the Mass.
Earlier this week the bishop said he felt "conflicted" over his role, adding: "I made a decision not to say one word of praise or acknowledgement of his ministry, so in a sense that was how I felt I was balancing the conflict that was in my mind about it."
Dr McAreavey told the Newry Reporter that sex abuse scandals in the church had "challenged his faith" and revealed that three more victims of Fr Finnegan had come forward since a BBC Spotlight programme was screened earlier this month. Previously the bishop said the first allegation against Finnegan, who worked at St Colman's College in Newry from 1967 until 1987, emerged in 1994. He was moved to Clonduff parish in 1988.
Dr McAreavey, who took the reins in the Diocese of Dromore in 1999, said his predecessor's failure to make a public statement on Finnegan's abuse was a "gross error", and admitted that when he took up the position he allowed those arrangements to stand.
He said he had been "on the point" of naming the priest "several times" but said he had received no guidance from the Church on how to deal with the matter. A total of 12 allegations were made against Fr Finnegan.
The Diocese of Dromore reached a financial settlement with victims in October 2017 but details only emerged this month.
Dr McAreavey was not able to confirm an "exact figure" paid out in compensation, and disputed claims that a further 12 cases were pending. He said the number was "much smaller".
Finnegan, who was president of St Colman's College for 11 years, was not defrocked before his death because he started to suffer the onset of dementia from 2000, Dr McAreavey said.