Abusive priest 'robbed me of religion'
By Noel Baker and Liam Heylin
Irish Examiner
March 17, 2018
https://www.irishexaminer.com/ireland/abusive-priest-robbed-me-of-religion-468435.html

There have been fresh calls for new sentencing guidelines for sex offences after a priest who sexually assaulted a little girl during her First Confession was given a suspended jail term.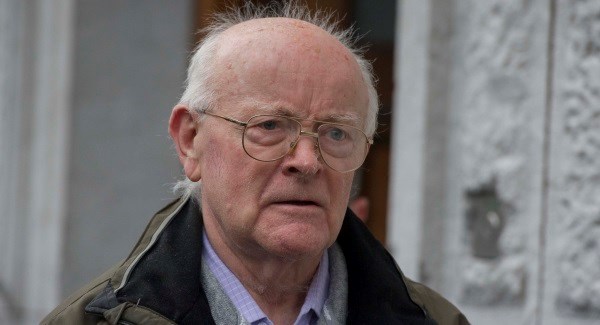 Former priest John Calnan: Guilty plea. Picture: Cork Courts
John Calnan, aged 79, pleaded guilty to carrying out the indecent assault in West Cork on the Communion girl in the late 1980s, but Judge Seán O Donnabhain said the accused had served two previous jail sentences for similar crimes and there was no point in re-committing him to jail at this point in his life.
Calnan, now living at The Presbytery, Roman St, Cork, was previously jailed for a year for an indecent assault on a girl aged around 10 when he picked her up in his car saying he was looking for directions. He was jailed for three years in 2015 for sexually assaulting another girl during her First Confession. He stopped ministering as a priest in 1992.
In 2012, Calnan was sentenced to an initial eight years in jail for the attempted rape of a six-year-old girl more than 30 years before. Triona O'Sullivan, who was the victim in that case, described the suspended sentence handed to Calnan for the latest crime as "ridiculous".
Ms O'Sullivan was first groomed and then attacked when Calnan was curate near Glandore in West Cork and she said yesterday: "It was a life sentence for me and any other child affected by him."
She said there should be minimum custodial sentences for those who sexually abuse children and that those abused in such cases should have any input into those guidelines.
The chief executive of the Dublin Rape Crisis Centre, Noeline Blackwell, agreed, saying they have "huge concerns about inconsistent sentencing in Ireland in the area of convictions for sexual violence".
"It is hard to believe that a repeat offender that was stealing cars or engaging in criminal damage to property would effectively get a lighter sentence for doing it more often," said Ms Blackwell.
She said respect had to be afforded to the right of the court to take numerous elements into consideration, including mitigation such as a guilty plea, with judges applying the "laws of the land". But she said while it was open to the Director of Public Prosecutions to appeal the sentence in this case, the State should reinstigate the sentencing database that was first mooted at the start of the last decade and that, as is the case in the UK, victims should have input into sentencing in these cases.
At Cork Circuit Criminal Court yesterday, the victim in the latest abuse case said: "I did inform my teacher and parents about the incident at the time but I am not sure they believed me.
"On the day of the abuse, I knew before ever entering the room for this man to hear my confession that something bad was going to happen. I went through my life never feeling believed."
Sergeant Maurice Downey said Calnan assaulted the girl as she was making her First Confession.
The victim who testified yesterday came forward in 2016 and made her complaint to gardaí about what the priest had done to her.
She said it had the effect of robbing her of her childhood and of her religion as she could not figure out how a priest who had sexually abused her during her First Confession could stand before a congregation and tell them how they should live their lives.
Judge O Donnabhain said the complainant should take the strength from the fact that Calnan had publically acknowledged his guilt: "Leave the guilt with him and not with her and that is how she should leave here."