West Cork priest pleads guilty to sexually assaulting girl during her first confession
The Southern Star
March 25, 2018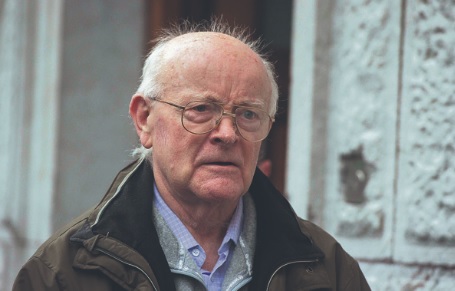 John Calnan, who is now living at The Presbytery, Roman Street, Cork, pleaded guilty to carrying out the indecent assault on the communion girl in the late 1980s. (Photo: Michael MacSweeney)
A WEST Cork priest sexually assaulted a little girl throughout her first confession and, last week, the 79-year-old got a suspended jail term.
Judge Sean Ó Donnabháin noted that the accused had served two previous jail sentences for similar crimes at this time and said that there was no point in re-committing him to jail at this point in his life.
John Calnan, who is now living at The Presbytery, Roman Street, Cork, pleaded guilty to carrying out the indecent assault on the communion girl in the late 1980s.
The victim told Cork Circuit Criminal Court, 'I did inform my teacher and parents about the incident at the time but I am not sure they believed me. On the day of the abuse, I knew before ever entering the room for this man to hear my confession that something bad was going to happen.
'I went through my life never feeling believed.'
On the day, she was wearing a little badge. The priest told her to come close to him so that he could see the badge and he then put his hand up her uniform pinafore and inside her pants and put his fingers in her vagina.
Sergeant Maurice Downey said Calnan was doing this, literally, as the schoolgirl was making her first confession.
Calnan was sentenced to three years in 2015 for an exactly similar assault. The following year, the victim who testified last week came forward and made her complaint to gardaí about what the priest had done to her.
She said it had the effect of robbing her of her childhood and of her religion as she could not figure out how a priest who had sexually abused her during her first confession could stand before a congregation and tell them how they should live their lives.
Judge Ó Donnabháin said the complainant should take the strength from the fact that he had publically acknowledged his guilt. 'Leave the guilt with him and not with her and that is how she should leave here.'
Defence barrister John Devlin said the accused had served time for similar offences, had undertaken rehabilitation to deal with these issues and was now experiencing health problems.
Sgt Downey said that the confessions were arranged to take place in the kitchenette at the end of the school's halla where the priest sexually abused the child during her confession.
Calnan was jailed for a year for an indecent assault on a girl aged around 10 years old when he picked her up in his car saying he was looking for directions. He was jailed for three years for sexually assaulting another girl during her first confession
Calnan was ordained in 1964, serving most of the time in West Cork. In 1992, he stopped ministering as a priest and went to the Gracewell clinic in Birmingham to deal with his offending behaviour.