Priest pleads guilty to three more assaults on young girls
The Southern Star
April 16, 2018
https://www.southernstar.ie/news/roundup/articles/2018/04/16/4154659-priest-pleads-guilty-to-three-more-assaults-on-young-girls/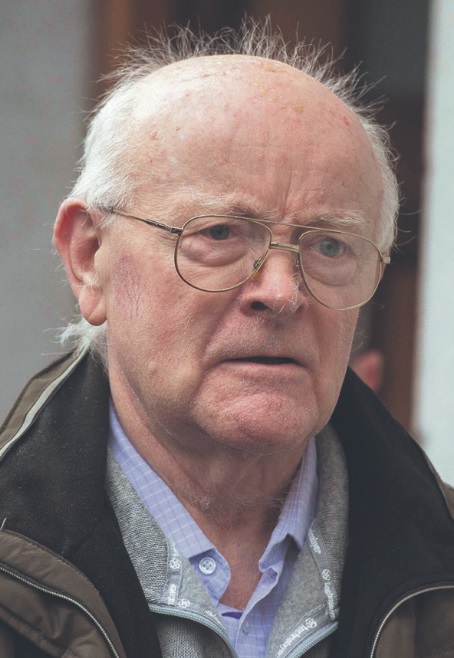 Former priest John Calnan who pleaded guilty to three further charges of sexual assault on girls while hearing their first confessions. (Photo: Michael MacSweeney)
A 79-YEAR-OLD West Cork priest, who got a suspended jail term last month for sexually assaulting a little girl throughout her First Confession, pleaded guilty this week to carrying out similar assaults on three other girls in the mid-1970s.
John Calnan, who is now living at The Presbytery, Roman Street, Cork, was formally arrested and charged earlier this week by Detective Garda Maurice Shanley.
As soon as Calnan was charged and cautioned by the detective, he replied 'guilty' to each of the charges.
Inspector Daniel Coholan told Judge Olann Kelleher at Cork District Court that the Director of Public Prosecutions had directed that all cases should be dealt with by indictment at Cork Circuit Criminal Court.
Joseph Cuddigan, defence solicitor, said there would be no requirement for the preparation of a Book of Evidence as the accused was prepared to enter signed pleas of guilty to the charges.
Judge Olann Kelleher then sent the cases forward for sentencing to the county sessions of Cork Circuit Criminal Court on April 24th. It will then be a matter for the accused to be sentenced on that date, or adjourned until later in the sessions for sentencing.
No background details to the new cases were given in Cork District Court this week.
The accused was remanded on bail to the Circuit Court.
At the last session of Cork Circuit Criminal Court last month, the same defendant, John Calnan, pleaded guilty to carrying out the indecent assault on a Communion girl in the late 1980s.
Calnan was sentenced to three years in 2015 for an almost identical assault, and a concurrent year for another sexual assault. The following year the next complainant came forward and made her complaint to gardaí about the priest. Last month Judge Seán Ó Donnabháin noted the two previous jail sentences for similar crimes and said that there was no point in re-committing him to jail at this point in his life, so he imposed a suspended sentence.
Calnan was ordained in 1964, serving most of the time in West Cork. In 1992 he stopped ministering as a priest and went to the Gracewell clinic in Birmingham to deal with his offending behaviour.
The full background to the three sexual assaults – to which Calnan pleaded guilty this week – will be given at the sentencing hearing. It is anticipated that victim impact statements will also be given, if the victims choose to make them.