Suspended sentence for priest who abused girls during first confession
Serial abuser Fr John Calnan (79) has escaped a further jail sentence for the abuse
By Barry Roche
Irish Times
April 24, 2018

https://www.irishtimes.com/news/crime-and-law/courts/circuit-court/suspended-sentence-for-priest-who-abused-girls-during-first-confession-1.3472977

A sex abuser survivor has told how she didn't know whether having her private parts touched were part of the sacrament of confession after a priest abused her while hearing her First Confession at a school in Co Cork.
The survivor, now a woman in her 50s, told gardaí how she was abused when she was six years old by serial abuser Fr John Calnan as he heard her First Confession.
At Cork Circuit Criminal Court, Calnan (79), from West Cork, ordained in 1964 but out of ministry since 1992 and now living at the Presbytery at Roman Street in Cork, was given an 18 months suspended prison sentence for the abuse of three girls between 1974 and 1978.
Det Garda Maurice Shanley, who investigated the complaints from the three women, told how Calnan abused the girls, who were aged between six and 12, by digitally penetrating them while hearing their confessions at various locations in the Diocese of Cork and Ross.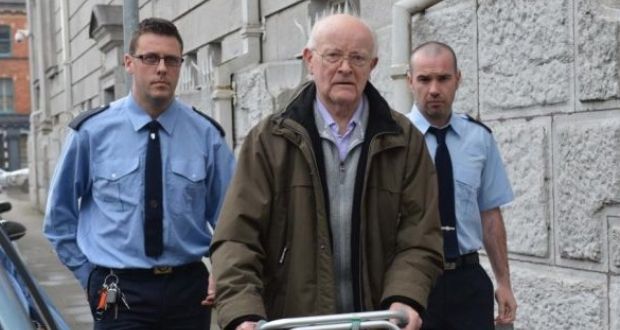 Fr John Calnan, pictured here during an earlier court appearance, was given an 18 months suspended prison sentence for the abuse of three girls between 1974 and 1978. Photograph: Michael Mac Sweeney
Det Garda Shanley told how when he interviewed Calnan while he was serving a prison sentence in Arbour Hill, during which he admitted the abuse and accepted the accounts given to gardaí by the three women of how they had been abused by him as children.
Calnan had been sentenced to eight years in jail with three years suspended at the Central Criminal Court in 2012 for the attempted rape of one girl, three counts of indecent assault on the same girl and one count of indecent assault on a boy in the 1970s.
He also been convicted twice in 2015 and once earlier this year of indecent assault on three other girls for which he received suspended sentences but he had not come to attention of gardaí since his release in 2016 from the five year term imposed at the Central Criminal Court.
Det Garda Shanley agreed with defence barrister, John Devlin BL that Calnan had gone for 10 months residential treatment for sex abusers at the Gracewell Clinic in the UK prior to any complaint being made and he was now living in a supervised setting provided for by the church authorities.
In a victim impact statement, the woman abused while making her First Confession told how she was afraid to tell her parents at the time of the abuse because Calnan was such a respected figure and she still had not told them as it would kill them to know what he had done to her.
"We were all sent into a room, one at a time to have the priest hear our confessions. This was an anxious time to ensure you did the right thing in school. As I knelt down in front of the priest, saying my prayers, the priest put his hands inside my panties tickling me.
"He then put his finger inside me. I felt it was weird and when I had finished my prayers, he placed his hand on my head and gave me his blessing. I left the room to go say my penance – I didn't tell anybody and I didn't know if his actions were part of the confessional ceremony."
Judge Sean Ó Donnabháin said the abuse of trust by Calnan as someone in a position of authority and responsibility was "phenomenal" and for him to abuse his victims was outrageous but to do so while administering a sacrament of the church was "particularly outrageous".
He accepted that Calnan was in poor health after suffering a number of heart attacks and he questioned whether there was any benefit to sending him to jail at the age of 79 and in ill health before imposing an 18 month sentence which he suspended.