Fr. Cletus Adams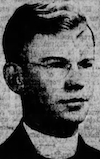 Member of T.O.R community in Hollidaysburg PA. Per PA Grand Jury Presentment 3/15/16, accused of molesting a little girl 1972-80 in Rapid City, SD. Bishop Dimmerling moved him to another parish due to the accusation and released him from diocese 1984. Adams worked in PA 1941-68, VA 1968-70, SD 1972-83. Returned to PA 1971-72, then 1984. In 1993 wanted to teach children piano lessons. T.O.R Provincial Giles Schinelli denied the request after reviewing Adams' file, writing "it is best he is now on our list of retired friars." Adams died 12/31/96. On Rapid City diocese's list in 3/19.
---
Return to main database page. See abbreviations and posting policy. Send corrections.
Our Database of Publicly Accused does not state or imply that individuals facing allegations are guilty of a crime or liable for civil claims. The reports contained in the database are merely allegations. The U.S. legal system presumes that a person accused of or charged with a crime is innocent until proven guilty. Similarly, individuals who may be defendants in civil actions are presumed not to be liable for such claims unless a plaintiff proves otherwise. Admissions of guilt or liability are not typically a part of civil or private settlements. For more information, see our posting policy.