Fr. Juan Alers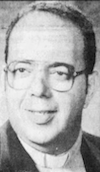 Ordained for the Archdiocese of San Juan in Puerto Rico. Taught for 14 years there at Catholic University. Was also Vice Chancellor, Diocesan Vocations Director and Director of Catholic Charities. In residence 2/1986-1/1987 at Our Lady of Lourdes in Atlanta while chaplain at the Federal Penitentiary. Placed on leave from the Penitentiary after a background check, which revealed allegations of abuse of youth in a program for runaways in Puerto Rico. Arrived in the Lake Charles diocese in 1987, reportedly from the Diocese of Orlando. Appointed in 4/1988 as Coordinator for Hispanic Ministries in the Diocese of Lafayette, LA. Was also pastor of an Oakdale parish and chaplain for Torrance County Detention Center in NM. Lake Charles received an allegation in 1997 that Alers sexually abused minors 1980-1985 in Puerto Rico. Removed from ministry in 2002. Died in 2011. Named publicly as accused by the Lake Charles diocese on its list 4/11/2019. Included on the Atlanta archdiocese's list in 11/2020. Included in the 3/24/2023 GA PAC Report.
---
Return to main database page. See abbreviations and posting policy. Send corrections.
Our Database of Publicly Accused does not state or imply that individuals facing allegations are guilty of a crime or liable for civil claims. The reports contained in the database are merely allegations. The U.S. legal system presumes that a person accused of or charged with a crime is innocent until proven guilty. Similarly, individuals who may be defendants in civil actions are presumed not to be liable for such claims unless a plaintiff proves otherwise. Admissions of guilt or liability are not typically a part of civil or private settlements. For more information, see our posting policy.