Fr. Jean-Pierre Bongila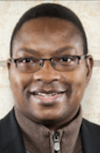 Accused in a lawsuit filed in 11/04 of sexually abusing a girl 1996-2000, starting when she was ages 16-17 and Bongila was working in the Archdiocese of San Francisco. Bongila denied the allegations. The suit settled in 2006. The archdiocese investigated and reportedly "cleared" Bongila. In 2013 a second lawsuit reportedly was filed, claiming Bongila sexually abused a male under age 18. It was dismissed in 7/19 because of lack of participation from the plaintiff in the case. Bongila began work in 2006 as the founding director of the International Leadership Program at the Universiy of St. Thomas in Minneapolis MN, where he remained as of 1/22.
---
Return to main database page. See abbreviations and posting policy. Send corrections.
Our Database of Publicly Accused does not state or imply that individuals facing allegations are guilty of a crime or liable for civil claims. The reports contained in the database are merely allegations. The U.S. legal system presumes that a person accused of or charged with a crime is innocent until proven guilty. Similarly, individuals who may be defendants in civil actions are presumed not to be liable for such claims unless a plaintiff proves otherwise. Admissions of guilt or liability are not typically a part of civil or private settlements. For more information, see our posting policy.