Fr. Joseph P. Bonner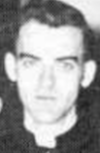 First named publicly as accused in the 8/14/18 PA Grand Jury Report. On diocese's list 8/19/18. Retired in 1998. Report to the diocese in 5/02 that Bonner molested a boy in 1975. The boy and his family were visiting from Arizona and stayed the night in the rectory. Bonner allegedly got into bed with the sleeping boy who awakened while the priest was fondling him. Bishop Timlin said the diocese was not responsible and that the accuser should contact Bonner. Settlement in 1/03 for $25K with confidentiality agreement. In 11/04 a 47-year-old man alleged sex abuse by Bonner at age 14-16. Diocese agreed to pay for 20 counseling sessions for the accuser. Bonner died in 2007.
---
Return to main database page. See abbreviations and posting policy. Send corrections.
Our Database of Publicly Accused does not state or imply that individuals facing allegations are guilty of a crime or liable for civil claims. The reports contained in the database are merely allegations. The U.S. legal system presumes that a person accused of or charged with a crime is innocent until proven guilty. Similarly, individuals who may be defendants in civil actions are presumed not to be liable for such claims unless a plaintiff proves otherwise. Admissions of guilt or liability are not typically a part of civil or private settlements. For more information, see our posting policy.