Fr. Robert K. Cooper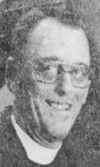 A man reported in 2007 to the archdiocese that he was sexually abused in the mid-1970s by Cooper and Rev. Luis Fernandez while a student at St. John Vianney Prep. Cooper was a school counselor and disciplinarian. The archdiocese offered the man therapy. Archbishop Aymond had been a teacher at the school as a young priest, had helped the boy and other students when they complained about sexually suggestive letters they had received from Cooper. Cooper was removed from the school. Retired in 1985. Died 10/11/89. Added in 12/20 to the archdiocese's list.
---
Return to main database page. See abbreviations and posting policy. Send corrections.
Our Database of Publicly Accused does not state or imply that individuals facing allegations are guilty of a crime or liable for civil claims. The reports contained in the database are merely allegations. The U.S. legal system presumes that a person accused of or charged with a crime is innocent until proven guilty. Similarly, individuals who may be defendants in civil actions are presumed not to be liable for such claims unless a plaintiff proves otherwise. Admissions of guilt or liability are not typically a part of civil or private settlements. For more information, see our posting policy.