Fr. Patrick J. Doherty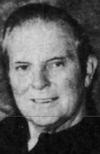 Named publicly by the diocese as accused in 9/19 after it received a report of "an incident" over 40 years prior. Diocese to investigate. "Retired" in 1993 due to struggles with alcoholism and "disreputable behaviors with adult men." No longer living in WI in 9/19. The diocese announced in 1/20 that its Review Board found the allegations credible. Case to be sent to the Vatican. Sentenced to a life of prayer and penance. Added to the diocese's list of credibly accused 1/17/20. Categorized as having left or been removed from the diocese, in 1993. The diocese announced in 3/20 that it had received a second credible allegation, dating to 45 years prior when he was pastor of a Boscobel parish.
---
Return to main database page. See abbreviations and posting policy. Send corrections.
Our Database of Publicly Accused does not state or imply that individuals facing allegations are guilty of a crime or liable for civil claims. The reports contained in the database are merely allegations. The U.S. legal system presumes that a person accused of or charged with a crime is innocent until proven guilty. Similarly, individuals who may be defendants in civil actions are presumed not to be liable for such claims unless a plaintiff proves otherwise. Admissions of guilt or liability are not typically a part of civil or private settlements. For more information, see our posting policy.