Fr. Richard Wayne Fassbinder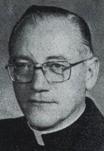 Retired in 1997. Privileges removed 4/02 after review board determined "reasonable cause" to suspect he had sexually abused a male minor during his assignment at Prince of Peace parish. Abuse said to have begun in 1974 and ended in mid-1980s. Allegations first reported 12/01. Died 5/04. Name also on 2003 Archdiocesan list of abusers. Per documents released by archdiocese in 11/14, Fassbinder admitted taking nude pics of and a "sexual relationship" with a boy, beginning in 1974 when the boy was age 16 and continuing for 15 years; he said he didn't know the boy was a minor. He was in ministry for two years after his admission.
---
Return to main database page. See abbreviations and posting policy. Send corrections.
Our Database of Publicly Accused does not state or imply that individuals facing allegations are guilty of a crime or liable for civil claims. The reports contained in the database are merely allegations. The U.S. legal system presumes that a person accused of or charged with a crime is innocent until proven guilty. Similarly, individuals who may be defendants in civil actions are presumed not to be liable for such claims unless a plaintiff proves otherwise. Admissions of guilt or liability are not typically a part of civil or private settlements. For more information, see our posting policy.