Fr. Austin E. Flanagan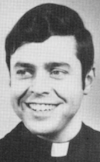 First named publicly as accused in the 8/14/18 PA Grand Jury Report. In 9/80 a parishioner told Bishop McCormick that Flanagan would not let anyone into the rectory, that he was sleeping with boys, and that parishioners were disgusted. Moved in 9/80 from St. Thomas in Elkland to St. Francis in Mildred. Sick Leave 4/90-6/90. Treated at St. Vincent's in Harrison NY. Flanagan reportedly was sent to treatment after accusations he had fondled two boys at a summer camp two years prior. He did not deny the accusations. Removed from active ministry 7/02. In 6/05 a man reported to the diocese that Flanagan sodomized him in St. Mary's rectory when he was age 11 in 1973. Flanagan denied wrongdoing. On diocese's list 8/19/18.
---
Return to main database page. See abbreviations and posting policy. Send corrections.
Our Database of Publicly Accused does not state or imply that individuals facing allegations are guilty of a crime or liable for civil claims. The reports contained in the database are merely allegations. The U.S. legal system presumes that a person accused of or charged with a crime is innocent until proven guilty. Similarly, individuals who may be defendants in civil actions are presumed not to be liable for such claims unless a plaintiff proves otherwise. Admissions of guilt or liability are not typically a part of civil or private settlements. For more information, see our posting policy.