Fr. Charles J. Richard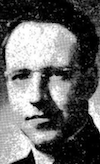 Accused in a 2020 lawsuit(s) of the sexual abuse of a minor(s). Per his obituary, Richard was assigned to a St. Mary's in Potsdam after ordination until 1951 when he became an Army chaplain. Worked in Korea 1952-53, Vietnam 1968-69, and in Europe, South America and Panama. Returned to the Ogdensburg diocese, assigned 1972-1996 to Sacred Heart, then chaplain of Mater Dei College and later of St. Joseph's Home. He died 2/14/07.
---
Return to main database page. See abbreviations and posting policy. Send corrections.
Our Database of Publicly Accused does not state or imply that individuals facing allegations are guilty of a crime or liable for civil claims. The reports contained in the database are merely allegations. The U.S. legal system presumes that a person accused of or charged with a crime is innocent until proven guilty. Similarly, individuals who may be defendants in civil actions are presumed not to be liable for such claims unless a plaintiff proves otherwise. Admissions of guilt or liability are not typically a part of civil or private settlements. For more information, see our posting policy.