Fr. Francis J. Fromholzer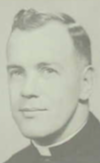 In 2002 a woman alleged sex abuse by Fromholzer, including on trip to the Poconos, in 9/65 when she was a 13- to 14-year-old student and he was a young priest. Suit filed 1/04. Second woman sued 7/04 alleging abuse on same 1965 trip. No criminal prosecution due to statute of limitations. Left active ministry 9/02. Last known to be living in FL. Named in the 8/14/18 PA Grand Jury Report. Per the report, one girl told her school principal about abuse by Fromholzer in the 1960s and was then expelled. Another alleged victim said she told several priests in the 1980s who didn't want to hear it and did nothing. She learned through the GJ report that after she came forward in 2002 to law enforcement the diocese investigated her. She filed suit against the diocese in 9/18 alleging it caused the intentional infliction of emotional distress and defamation.
---
Return to main database page. See abbreviations and posting policy. Send corrections.
Our Database of Publicly Accused does not state or imply that individuals facing allegations are guilty of a crime or liable for civil claims. The reports contained in the database are merely allegations. The U.S. legal system presumes that a person accused of or charged with a crime is innocent until proven guilty. Similarly, individuals who may be defendants in civil actions are presumed not to be liable for such claims unless a plaintiff proves otherwise. Admissions of guilt or liability are not typically a part of civil or private settlements. For more information, see our posting policy.