Fr. Jesus Garay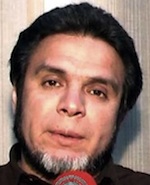 Extern priest from Argentina. Accused in a 2004 lawsuit of raping a 17-year-old girl in 1997. The girl worked as a part-time secretary at Holy Family Church in Wilmington, CA, where Garay was assigned. She said she became pregnant in 12/97, the abuse continued until about 4/98, and Garay pressured her to have an abortion. She gave birth to the child and, per the lawsuit, the archdiocese did not inform authorities of the abuse, nor did they provide medical coverage during the pregnancy or support after the baby was born. He was returned to Argentina when the girl became visibly pregnant and was allowed parish ministry in the Diocese of Concordia. Garay was named in the 2005 Los Angeles archdiocesan report addendum. He reportedly left ministry in 2008 and married.
---
Return to main database page. See abbreviations and posting policy. Send corrections.
Our Database of Publicly Accused does not state or imply that individuals facing allegations are guilty of a crime or liable for civil claims. The reports contained in the database are merely allegations. The U.S. legal system presumes that a person accused of or charged with a crime is innocent until proven guilty. Similarly, individuals who may be defendants in civil actions are presumed not to be liable for such claims unless a plaintiff proves otherwise. Admissions of guilt or liability are not typically a part of civil or private settlements. For more information, see our posting policy.