Fr. Robert J. Gibson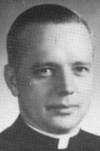 Allegations first made public by the diocese in 9/08. Named in the 8/14/18 PA Grand Jury Report. Accused in 1/95 of the sexual abuse of a boy, age 14, in 1975. He admitted the abuse and was sent to St. John Vianney in Downington for evaluation and treatment. Victim sued. Settled for $30K. Placed in 8/95 in residence and under supervision at a parish rectory. In 1997 a woman complained that Gibson was grooming her son. GIbson was sent again to Downington. Placed 2/1/98 at St. John Vianney Renewal Center in Dittmer, MO. Faculties removed. Allegation the same month of abuse of his minor nephew. Three more men came forward with allegations, in 4/02, 10/05 and 7/07. One said the abuse occurred 1973 through 1974. Gibson died in 2012. On diocese's list 8/19/18.
---
Return to main database page. See abbreviations and posting policy. Send corrections.
Our Database of Publicly Accused does not state or imply that individuals facing allegations are guilty of a crime or liable for civil claims. The reports contained in the database are merely allegations. The U.S. legal system presumes that a person accused of or charged with a crime is innocent until proven guilty. Similarly, individuals who may be defendants in civil actions are presumed not to be liable for such claims unless a plaintiff proves otherwise. Admissions of guilt or liability are not typically a part of civil or private settlements. For more information, see our posting policy.