Fr. William Mark Haegelin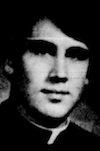 Removed in 9/02 after a man accused Haegelin of inappropriate sexual relations with him as a minor in the 1980s. Haegelin denied the allegation. He later admitted to having a sexual relationship with the man, but only when the man was an adult. In 11/02 the archdiocesan review board cleared him of allegations of sexual misconduct with a minor. No criminal investigation because Haegelin's accuser did not want one. Review board recommended he return to ministry after spiritual counseling. On the archdiocese's list 1/25/19. It notes that it could not determine if the "sexual relationship" began while Haegelin's accuser was still a minor. Laicized in 2004. In 6/21 the archdiocese announced that allegation that the victim was a minor during the time in question was substantiated.
---
Return to main database page. See abbreviations and posting policy. Send corrections.
Our Database of Publicly Accused does not state or imply that individuals facing allegations are guilty of a crime or liable for civil claims. The reports contained in the database are merely allegations. The U.S. legal system presumes that a person accused of or charged with a crime is innocent until proven guilty. Similarly, individuals who may be defendants in civil actions are presumed not to be liable for such claims unless a plaintiff proves otherwise. Admissions of guilt or liability are not typically a part of civil or private settlements. For more information, see our posting policy.