Fr. P. Lawrence Homer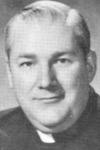 Multiple complaints. First named publicly as accused in the 8/14/18 PA Grand Jury Report. Resigned in 10/93. Removed from ministry 7/3/02. In 1967 there was a report to a Fr. Post that Homer had a 14-year-old girl in his locked office when she was supposed to be in class, asked her inappropriate sexual questions and made inappropriate comments. A second similar allegation involving a 14-year-old girl followed; he was said to have unbuttoned this girl's blouse and french kissed her. Transferred to another parish. In 1/88 a woman told the diocese that Homer molested her in 1964 when she was age 14. More complaints surfaced, including of an incident with a nun. Sent twice for evaluation and treatment. Died in 2015. On diocese's list 8/19/18.
---
Return to main database page. See abbreviations and posting policy. Send corrections.
Our Database of Publicly Accused does not state or imply that individuals facing allegations are guilty of a crime or liable for civil claims. The reports contained in the database are merely allegations. The U.S. legal system presumes that a person accused of or charged with a crime is innocent until proven guilty. Similarly, individuals who may be defendants in civil actions are presumed not to be liable for such claims unless a plaintiff proves otherwise. Admissions of guilt or liability are not typically a part of civil or private settlements. For more information, see our posting policy.