Fr. Robert F. Johnston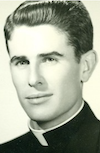 In 2002 a man said Johnston abused him as a teenager in about 1978, at Sacred Heart parish in Valley Park. Johnston admitted the abuse and resigned from current parish. Two men filed suit in 12/04 alleging abuse 1977-80. Arrested in 1/05; criminal charges filed 6/06 related to alleged abuse of a youth in 1978. Four suits moved to federal court. One of six priests named in settlement announced 7/08. Laicized in 2002. In 6/11 the U.S. Court of Appeals for the 8th Circuit ruled the archdiocese not responsible for his behavior. On the archdiocese's list 7/26/19. Allegations substantiated. Removed from ministry. Included on the Springfield-Cape Girardeau diocese's list updated 4/13/21; assigned 1962-64 to a Poplar Bluff parish. Died 4/4/21.
---
Return to main database page. See abbreviations and posting policy. Send corrections.
Our Database of Publicly Accused does not state or imply that individuals facing allegations are guilty of a crime or liable for civil claims. The reports contained in the database are merely allegations. The U.S. legal system presumes that a person accused of or charged with a crime is innocent until proven guilty. Similarly, individuals who may be defendants in civil actions are presumed not to be liable for such claims unless a plaintiff proves otherwise. Admissions of guilt or liability are not typically a part of civil or private settlements. For more information, see our posting policy.