Fr. Joseph H. Kean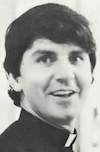 First named publicly as accused in the 8/14/18 PA Grand Jury Report. Included on the Allentown diocese 8/19/18 list. of credibly accused. Report to the diocese in 12/92 that Kean abused a boy over several years, starting when he was age 12 and Kean was pastor of SS Peter and Paul in Tower City. Kean was at the parish 1/77-1/83. Kean acknowledged the abuse and to abusing the boy's friend. May have been sent to Paracletes in NM for treatment. More victims identified by the Grand Jury, found in secret archives. A second man contacted the diocese in 1999 claiming abuse as a teenage altar boy in the 1970s in Tower City. A third man came forward in 4/02, saying that Msgr. William Jones sexually abused him then introduced him to and "shared" him with Kean. He said Kean performed oral sex on him and other boys in his Tower City bedroom. Reports in 2005 of abuse of two more: a Tower City altar boy ages 10-15 and an Ashland boy 1987-88, who went on to be heroin-addicted and suicidal. Kean retired in 2002. Laicized 6/26/07.
---
Return to main database page. See abbreviations and posting policy. Send corrections.
Our Database of Publicly Accused does not state or imply that individuals facing allegations are guilty of a crime or liable for civil claims. The reports contained in the database are merely allegations. The U.S. legal system presumes that a person accused of or charged with a crime is innocent until proven guilty. Similarly, individuals who may be defendants in civil actions are presumed not to be liable for such claims unless a plaintiff proves otherwise. Admissions of guilt or liability are not typically a part of civil or private settlements. For more information, see our posting policy.