Fr. John James Keehan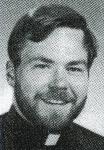 Allegations against Keehan of sexual misconduct date back to 1967-1974, during his first assignment at St. Basil. Removed from public ministry in 6/02. Keehan said he would appeal the decision. The archdiocese had determined years prior that there was "reasonable cause to believe" that Keehan had abused children.  Computer taken away from Keehan in 9/10 as he was accessing numerous social networking sites, most child-oriented. In 1/13 the archdiocese recommended he enroll in a technology course to prevent his continued reliance on his "ignorance" of technology to avoid accountability re internet use. Last known to be living at a Catholic Charities nursing home in Palos Park, IL.
---
Return to main database page. See abbreviations and posting policy. Send corrections.
Our Database of Publicly Accused does not state or imply that individuals facing allegations are guilty of a crime or liable for civil claims. The reports contained in the database are merely allegations. The U.S. legal system presumes that a person accused of or charged with a crime is innocent until proven guilty. Similarly, individuals who may be defendants in civil actions are presumed not to be liable for such claims unless a plaintiff proves otherwise. Admissions of guilt or liability are not typically a part of civil or private settlements. For more information, see our posting policy.