Fr. Joseph P. Kelly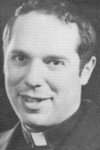 Monsignor. Retired in 2006. Among assignments were Boys Town in NE, Project Hope, Camp St. Andrew (Director), and St. Michael's School in Falls Township (Director in the 1970s). Taught for 25 years in diocesan schools. Named publicly by the diocese in 10/20 as accused, with seven allegations against him, four of them deemed credible. All were from men who had been committed as boy's to St. Michael's. Added to the diocese's list. Kelly denied the allegations. Placed on leave when the allegations were received via the diocese's Independent Survivors Compensation Program. Settlement in the mid-five figures in 2020 of a claim of abuse of a boy, age 13, in 1978 at St. Michael's.
---
Return to main database page. See abbreviations and posting policy. Send corrections.
Our Database of Publicly Accused does not state or imply that individuals facing allegations are guilty of a crime or liable for civil claims. The reports contained in the database are merely allegations. The U.S. legal system presumes that a person accused of or charged with a crime is innocent until proven guilty. Similarly, individuals who may be defendants in civil actions are presumed not to be liable for such claims unless a plaintiff proves otherwise. Admissions of guilt or liability are not typically a part of civil or private settlements. For more information, see our posting policy.