Fr. Francis R. Lamothe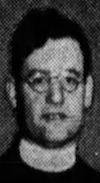 Ordained for the Diocese of Salt Lake. Transferred by the mid-1950s to the Diocese of Manchester. Died in 1995. At least 9 men filed suit in 2002 alleging abuse by Lamothe. Name on diocese's list in 2/02 of 14 priests against whom there were credible allegations of sexual abuse. Plaintiff's attorney described LaMothe as a "groomer." At least one claim included in 11/02 $5M settlement involving 62 alleged victims and 28 priests.
---
Return to main database page. See abbreviations and posting policy. Send corrections.
Our Database of Publicly Accused does not state or imply that individuals facing allegations are guilty of a crime or liable for civil claims. The reports contained in the database are merely allegations. The U.S. legal system presumes that a person accused of or charged with a crime is innocent until proven guilty. Similarly, individuals who may be defendants in civil actions are presumed not to be liable for such claims unless a plaintiff proves otherwise. Admissions of guilt or liability are not typically a part of civil or private settlements. For more information, see our posting policy.