Fr. Gregory F. Loughney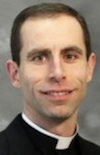 Pastor of Most Holy Trinity in Cresco when arrested in 10/21 after admitting to police that he intended to meet two teenage boys for sex. Loughney called the police himself after he was caught and filmed in a convenience store parking lot by a man calling himself a "predator catcher"; the man had posed as a 15-year-old boy on a dating app and set up the meeting. Loughney was suspended from active ministry by the diocese pending the investigation. In a plea agreement in 7/22 he pleaded no contest to attempted indecent assault and attempted corruption of minors. Sentencing scheduled for 10/22.
---
Return to main database page. See abbreviations and posting policy. Send corrections.
Our Database of Publicly Accused does not state or imply that individuals facing allegations are guilty of a crime or liable for civil claims. The reports contained in the database are merely allegations. The U.S. legal system presumes that a person accused of or charged with a crime is innocent until proven guilty. Similarly, individuals who may be defendants in civil actions are presumed not to be liable for such claims unless a plaintiff proves otherwise. Admissions of guilt or liability are not typically a part of civil or private settlements. For more information, see our posting policy.