Fr. Martin J. Louis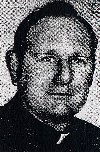 In 1990 a 20-year-old woman accused Louis of molesting and raping her several times when she was age 10. Diocese forced Louis to resign and sent him to counseling. Girl filed civil suit in 1991; settled in 1992. Louis indicted on rape charges in 1992; sentenced in 1993 to 5-25 years in prison. Still in prison 8/11. Other victims came forward when charges filed. He admitted in therapy to abusing as many as 90 (diocese said really 14-16). In 2001, a civil suit was filed alleging Louis also abused a young man. Laicized, per the diocese's list in 6/19.
---
Return to main database page. See abbreviations and posting policy. Send corrections.
Our Database of Publicly Accused does not state or imply that individuals facing allegations are guilty of a crime or liable for civil claims. The reports contained in the database are merely allegations. The U.S. legal system presumes that a person accused of or charged with a crime is innocent until proven guilty. Similarly, individuals who may be defendants in civil actions are presumed not to be liable for such claims unless a plaintiff proves otherwise. Admissions of guilt or liability are not typically a part of civil or private settlements. For more information, see our posting policy.