Fr. Robert J. Mahoney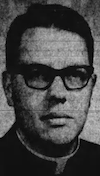 Two men filed civil suits in 1992 and 1993 against the diocese and Mahoney. First plaintiff claimed Mahoney "assaulted, battered and raped" him 1981-83 as a child at an elementary school in South Bend; second claimed abuse 1970-72 at school in Mishawaka. Suits were dismissed 12/93 and 2/94 "with prejudice." No reasons were provided. Resigned from ministry 6/15/93. Laicized 7/25/06. On diocese's 9/18/18 list, noting four credible allegations.
---
Return to main database page. See abbreviations and posting policy. Send corrections.
Our Database of Publicly Accused does not state or imply that individuals facing allegations are guilty of a crime or liable for civil claims. The reports contained in the database are merely allegations. The U.S. legal system presumes that a person accused of or charged with a crime is innocent until proven guilty. Similarly, individuals who may be defendants in civil actions are presumed not to be liable for such claims unless a plaintiff proves otherwise. Admissions of guilt or liability are not typically a part of civil or private settlements. For more information, see our posting policy.