Fr. Thomas Reon Paul Marshall, Jr.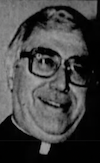 Transferred to Canada in 1966 from Chicago. Charged in 2003 with 20 counts of lewd acts upon child under age 14 1959-1963, while working in Los Angeles. At least three accusers there. D.A. was attempting to extradite as of 2003. Named in 12/03 civil suit. In residence at Paulist Centre for Catholic Evangelization Toronto, ON, Canada, per Paulist website accessed 9/19/09. On Buffalo diocese's list updated 11/5/18. On Paulists list 3/8/19. It notes allegations reported 2002, 2003, 2008, 2018, of abuse in Los Angeles 1959-60, 1960-62, 1961-62; 1956 and 1959 in Lake George NY, and in Buffalo NY 1982. Marshall died 12/24/12. Included in 10/22 on the Chicago archdiocese's list.
---
Return to main database page. See abbreviations and posting policy. Send corrections.
Our Database of Publicly Accused does not state or imply that individuals facing allegations are guilty of a crime or liable for civil claims. The reports contained in the database are merely allegations. The U.S. legal system presumes that a person accused of or charged with a crime is innocent until proven guilty. Similarly, individuals who may be defendants in civil actions are presumed not to be liable for such claims unless a plaintiff proves otherwise. Admissions of guilt or liability are not typically a part of civil or private settlements. For more information, see our posting policy.