Fr. Peter McBride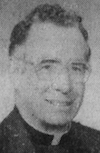 Named publicly as accused by the diocese on its list 2/13/19. Multiple accusations noted. Removed from ministry 10/1/94. Indicted in 2/95 on charges of sexual harassment by offensive touching of two adult female parishioners, and of molesting a girl, age 14. McBride had admitted to exposing himself to and fondling the girl. Charges were dropped in the case of abuse of the girl, the judge saying that McBride was denied his right to an attorney. The girl filed a civil case in 2/96, which settled. Six other women also claimed molestation by McBride but no prosecution due to the statute of limitations. He pleaded guilty in 2/97 to improper touching of the two adult women, in 1991 and 1992. Sentenced in 4/97 to treatment and fined $250. Sent to St. Luke Institute in Silver Spring, MD. He was later allowed to work as a weekend assistant at a parish.
---
Return to main database page. See abbreviations and posting policy. Send corrections.
Our Database of Publicly Accused does not state or imply that individuals facing allegations are guilty of a crime or liable for civil claims. The reports contained in the database are merely allegations. The U.S. legal system presumes that a person accused of or charged with a crime is innocent until proven guilty. Similarly, individuals who may be defendants in civil actions are presumed not to be liable for such claims unless a plaintiff proves otherwise. Admissions of guilt or liability are not typically a part of civil or private settlements. For more information, see our posting policy.