Fr. Leo F. McCarthy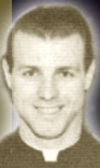 Monsignor. Accused in a lawsuit filed under the NY Child Victims Act of sexually abusing a girl, age 12, at St. Matthew's in 1982. Placed on leave in 7/21 pending investigation. McCarthy allegedly asked the girl to help him out at the church, showed her pornography, forced her to sit on his lap, and "had sex" with her multiple times. She is said to have told a teacher, who did nothing, and was later expelled for reporting the allegations. She told her mother about McCarthy's behavior after the mother suspected the girl was pregnant. McCarthy denied abusing the girl. In 5/22 the diocese announced that its Review Board found that the allegation was unsubstantiated. McCarthy was reinstated.
---
Return to main database page. See abbreviations and posting policy. Send corrections.
Our Database of Publicly Accused does not state or imply that individuals facing allegations are guilty of a crime or liable for civil claims. The reports contained in the database are merely allegations. The U.S. legal system presumes that a person accused of or charged with a crime is innocent until proven guilty. Similarly, individuals who may be defendants in civil actions are presumed not to be liable for such claims unless a plaintiff proves otherwise. Admissions of guilt or liability are not typically a part of civil or private settlements. For more information, see our posting policy.