Fr. Richard P. McGann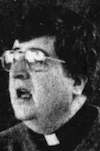 Per news in 3/11, the Hartford archdiocese had paid an undisclosed settlement in 2009 to a man who alleged sexual abuse by McGann 1975-77, beginning when man was age 12. The archdiocese said when confronted in 2011 that McGann was placed on administrative leave in 2005 without privileges. Archdiocese was still paying a stipend to McGann. Plaintiff in settlement was convicted in 1986 of killing his grandfather and was serving 60 years in a ME prison. McGann's name was included on the archdiocese's list 1/22/19. It notes that he had been sentenced by the Vatican 5/24/16 to a life of prayer and penance.
---
Return to main database page. See abbreviations and posting policy. Send corrections.
Our Database of Publicly Accused does not state or imply that individuals facing allegations are guilty of a crime or liable for civil claims. The reports contained in the database are merely allegations. The U.S. legal system presumes that a person accused of or charged with a crime is innocent until proven guilty. Similarly, individuals who may be defendants in civil actions are presumed not to be liable for such claims unless a plaintiff proves otherwise. Admissions of guilt or liability are not typically a part of civil or private settlements. For more information, see our posting policy.