Fr. Douglas A. McNeill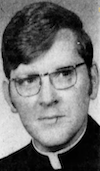 Entered religious life with Mission of Sacred Heart in 1962. Dispensation granted 1967. Ordained for the Gallup diocese. Assigned to Winslow and Holbrook, AZ and Thoreau, NM. Removed in 3/94 after accused in a civil suit of abusing a youth in 1978 while the youth stayed with him at St. Bonaventure Indian Mission to finish the school year. In 1993 McNeill admitted to the abuse when his accuser confronted him. Offered to pay the man $15K from school funds. Man refused. Suit settled in 9/95 for $135K. Also accused of abuse of two in AZ in 1971. McNeill still "on leave" per 2002 OCD. Died 7/16/18 at his home in MD.
---
Return to main database page. See abbreviations and posting policy. Send corrections.
Our Database of Publicly Accused does not state or imply that individuals facing allegations are guilty of a crime or liable for civil claims. The reports contained in the database are merely allegations. The U.S. legal system presumes that a person accused of or charged with a crime is innocent until proven guilty. Similarly, individuals who may be defendants in civil actions are presumed not to be liable for such claims unless a plaintiff proves otherwise. Admissions of guilt or liability are not typically a part of civil or private settlements. For more information, see our posting policy.